Catching Some Flack
Nivel 13 : 1,200/2,400, 600 ante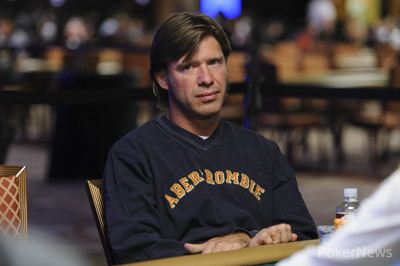 by Pamela Maldonado
With only 87 entries in this event, it's no wonder we saw a stacked list of players to advance on to the second day including Paul Volpe, Phil Laak, Dan O'Brien, Phil Ivey, John Hennigan, Ashton Griffin, Phil Galfond, Brian Hastings and so many others.
Layne Flack is one of the notable contenders who made it to Day 2 of Event #43: $10,000 No-Limit 2-7 Draw Lowball today, and he's back hunting for his seventh World Series of Poker gold bracelet.
Before break, Flack was sitting near the top of the leader board with 145,000 in chips, third behind Paul Volpe and Phil Laak. PokerNews had a short opportunity to chat with him a bit about his life of sobriety, his history as "Back-to-Back Flack", and his experience with mixed games.
Last year you had two final tables, and this year you have three WSOP cashes. What have you been doing, if anything, to improve your mixed-game skills?
I actually haven't been doing anything [differently]. This year I started really poorly. I play a lot of golf, so I try to look at it like my golf game. If you don't play so well on the front nine, you have to play well on the back nine. So my three cashes didn't come till the second half of the Series. From the first half to the second half, I decided to make some adjustments and I think it's helped.
We heard you've been two-years sober. How has life changed for you since?
I wasn't forced to quit, I decided to on my own. Priorities, the more important things in life, started factoring in and once I put that into perspective, it just made sense and I knew I had to make a change for the better.
So your nickname is "Back-to-Back Flack." Do you wish for the same kind of success this year?
Absolutely. That name is tough to get. To win back-to-back WSOP events and then to come back the following year and win back-to-back WSOP events again, that's unheard of. I actually had back-to-back success at The Legends also, so I've actually done it three times.
What game do you feel is your strongest?
I like the split games. I've had a lot of success in no-limit hold'em, but the limit games like H.O.R.S.E. and other games I enjoy more. Since I like those games better than the rest, I will enter more of those events.
What changes to the WSOP do you wish to see?
There is one big one I would like to see. I think the bracelets are starting to get saturated by allowing the European and the Australian bracelets to count as part of record lists. I think the people with a lot of bracelets should protect that because you don't know where it's going to end. I was talking about this to Phil Hellmuth, who has 13 bracelets. I told him 10 years from now there may 150 bracelet events or more and so 13 will no longer be a big number. Those who have won WSOP bracelets here in Las Vegas aren't being protected and I think that needs to change.