From the Dinner Table to the Poker Table
Nivel 2 : 50/100, 0 ante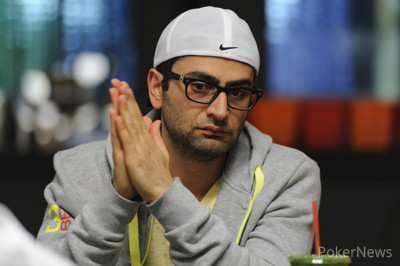 We noticed Antonio Esfandiari's stack pushed to the middle for an all-in reraise, and none other than Jennifer Tilly contemplating whether or not to call. Tilly had raised and made it 1,000 to play from the button, but "The Magician" moved all in over the top for around 8,500 more.
Tilly is the longtime girlfriend of poker pro Phil Laak, who just happens to be one of Esfandiari's good friends and partner in crime on the poker scene, and the personal relationship was not lost on either player during the hand.
"I know I have the best hand here," said Tilly, while a throng of onlookers peered in on the action from along the rail. "But you just seem so casual over there."
"If you call, I show you the nuts," answered Esfandiari. "And if you fold, I show you the bluff."
While Tilly squirmed in her seat and calculated the variables in play, Esfandiari did his best to throw her off with a bit of verbal jousting.
"You can't call with, like, sixes here," he needled, "You'll just bust out, you'll catch s*** from you're boyfriend, it'll be a bad day... it's just not worth it."
"I know I have you beat at the moment," countered Tilly. "But you seem way to casual to be bluffing."
Sensing that Tilly was ready to relent, Esfandiari resorted to a move that has worked on women since time immemorial.
"Come on Jen," he said "We had dinner together last night. We shared wine... you don't want to call."
With that, Tilly's cards were reluctantly mucked, and Esfandiari kindly showed the


to assuage Tilly's doubts. Or perhaps, to reinforce them.
"I knew I should've called!" she said, lending thought that she laid down a pocket pair.