Cunningham Adds Some of Koren's Mush to His Stack
Nivel 11 : 0/0, 600 ante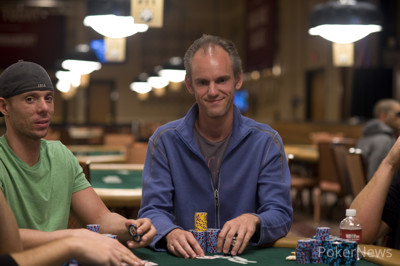 Artur Koren made a bet on a board of



. Allen Cunningham decided to raise it to 9,000. Koren then asked how much Cunningham had.
Koren asked, "About 30 or 40?"
Cunningham responded, "Mush."
With that Koren decided to call. They then saw an

on the turn. Both players wanted to check and they did. The river was the

. This brought a finger tough check by Cunningham. Koren did not want to check, he wanted to bet an amount of 14,000. Cunningham had three options and he chose to check-raise to 30,000.
Koren needing to call only 14,000 more tanked for three minutes. He eventually sighed and mucked his hand.
The loss took Koren down to 50,000. Cunningham added more mush to his stack with over 110,000 in chips.