Van Patten the Renaissance Man
Nivel 2 : 0/0, 25 ante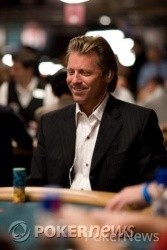 Vince Van Patten has been a well known personality for nearly his entire life, as the son of famous actor Dick Van Patten. Following in his father's footsteps, Van Patten also became well regarded for his on-screen work, appearing in commericals, television shows, and feature films.
Later in his life, Van Patten played professional tennis, and in 1979 the talented athlete was recognized as the Association of Tennis Professionals (ATP) Rookie of the Year. Van Patten played in numerous major events, including a quarterfinals appearance in the 1981 French Open.
He also tried his hand at poker as the years progressed, playing in some of the toughest cash games in California, as well as the tournament circuit.
Today, Van Patten is in the house trying to add a gold WSOP bracelet to his eclectic list of accomplishments, but after nearly tripling up in a recent hand, he was forced to go back to the drawing board.
Van Patten had his last 1,225 all in against two opponents, with the board reading


. When the other two players got it all in as well, Van Patten stood and tabled his


for a powerful drawing hand.
He soon found out the bad news, however, when one player rolled over


, neutralizing his club flush draw, and the other


for two pair. Van Patten was down to non-club sixes or jacks to make his straight, and he did not appear to be very confident in his chances.
Turn:

Van Patten spiked his straight on the turn, and he was poised to triple through and regain his footing in this ante-only tournament.
River:

"F--k!," said Van Patten jokingly, as the river card created a three-way chopped pot. "Why'd ya have to do that to me?"