Welcome to Day 1 of Event #46: $3,000 Pot Limit Omaha Hi-low 8-or-Better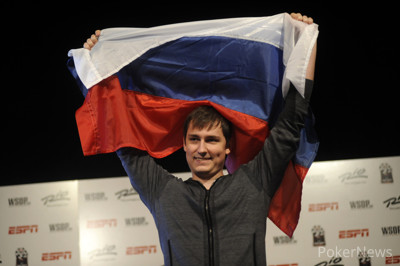 Welcome to PokerNews' coverage of Event #46 of the 2013 World Series of Poker, the $3,000 buy-in Pot Limit Omaha Hi-low 8-or-Better tournament.
If you thought that Pot Limit Omaha was an intense, action-driven game then wait until you see how this amazing game plays out in a split-pot format; it is going to be a spectacle to behold.
As is the case in Omaha tournament at the WSOP, the players will start with 9,000, but 6,000 of those will be in the form of lammers, each lammer being worth 3,000 chips each. Players can cash these in at any time they wish, with some players preferring to cash them in at the start, others like to hold onto them for as long as they can.
Last week, our very own Pamela Maldonado spoke to a number of top professional poker player and asked for their thoughts on the lammers concept. Some really like the idea, while others are not so keep on them. You can read that article here.
Last year's event saw 526 players turn out in force including the likes of Matt Vengrin, Dario Alioto, Erick Lindgren, Bryan Devonshire, Antoine Saout, Scotty Nguyen and David "ODB" Baker. The eventual champion was Russia's Viacheslav Zhukov who defeated Roch Cousineau heads-up to claim his first WSOP bracelet and the $330,227 first place prize.
Play in this year's event commences at 5pm local time and will continue until eight 60-minute levels are completed. There will be a 15-minute break after Level 2 and 6 with a 30-minute dinner break after Level 4. This means the players should be bagging and tagging by around 2am.
Keep your browsers locked to PokerNews so you do not miss any of the action from what should be a spectacular event. Until then, why not check out Lynn Gilmartin's June 25 update video?