The Funnest Table in the Room?
Nivel 2 : 50/100, 0 ante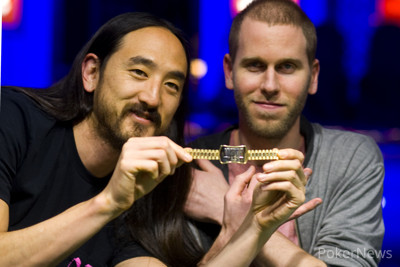 Jeff Madsen was involved in a pot with one other player on a board of



. On that board Madsen put out a bet of 275 that met a raise of 1,000 from his opponent. Madsen just called.
While the dealer was putting out the

on the river, Gavin Smith, who was aslo seated at the table in the 10 seat received a drink that he had ordered.
"Cheers," he said to Madsen who was still in the hand. The two men tapped their cups together and took a drink, after which Madsen checked. "You know, I think this could be the funnest table in the room if we got everyone drinking Greyhounds," Smith said.
"Oh," Madsen replied. "No doubt about it."
At this point, Madsen's opponent checked back and showed his




for two pair. It was good and he took down the pot.
"I think the tough spots are going to be seats one, two, and three," Smith said, talking about who wouldn't be taking a drink at the table. "They are going to take some convincing."
"This guy's got a Budweiser shirt on," Madsen said about another player on the table. "He wont be hard to convince."
Either way, looks like the players at the table are enjoying themselves, but we'll update if we see anymore shenanigans occur.