Perkins Wins Massive Pot To Bust Reinkemeier
Nivel 18 : 15,000/30,000, 5,000 ante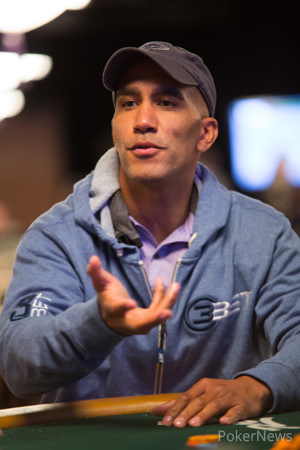 Wow. That's really all we can say to this one.
Picking up the action on the



flop just before the break, Bill Perkins checked to Tobias Reinkemeier in a pot that had already swelled to a few hundred thousand. Reinkemeier fired a bet of 175,000, but Perkins wanted to play for more and check-raised to 475,000. Reinkemeier got the raise amount, then made the call to see the turn.
On the turn, the dealer added the

to the board. Perkins asked Reinkemeier how much he had left, and the German moved his hands so Perkins could see. Perkins asked "How much?" a second time, and Reinkemeier pointed to his stack.
"Can you tell me how much? I can't count," said Perkins.
Reinkemeier then broke down his uneven stacks to show Perkins exactly what he had, which was 987,000. Perkins saw this, then announced a bet of 700,000.
Reinkemeier tanked for a bit, while Perkins stared intently at him. Eventually, Reinkemeier looked up at the dealer and said he was all in.
"I call!" exclaimed Perkins, standing from his chair and tabling the


for top set and the nuts. Reinkemeier turned up the


and was behind.
"Oh my god! Oh my god! Sweat it! Sweat it!" yelled Perkins, awaiting the river card.
The dealer burned one last time and placed the

out on the river. Perkins erupted from his chair, screaming at the top of his lungs, "LEERRRROOOYYYY JJEEENNNKKKIINNNSSS!!!! PPEEEERRRRRKKKYYYY LLLLIIIIIVVVEEESSS!!!" He then sprung into the arms of Antonio Esfandiari and screamed some more before heading over to his rail and slapping them high fives from above.
"Sometimes you think you're having fish for dinner, and a barracuda comes and bites you in the ass!" yelled Perkins amongst a few other things.
After the hand, Shaun Deeb said to Esfandiari, "I think Perkins winning this would be better for poker than you."