I Said "Hot Sandwiches!"
Nivel 6 : 300/600, 0 ante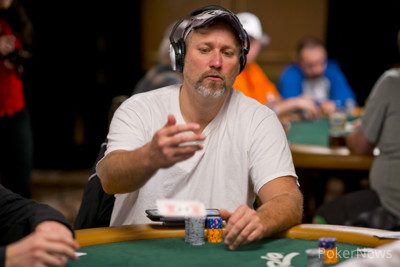 After losing yet another hand to Mark Klecan, apparently after having his top set cracked for the third time tonight, bracelet winner Chris Tryba let loose with a tirade for the ages.
"Cracked my top set three times today!," Tryba roared, loud enough for the entire Brasilia Room to take notice. "I'm being served c--k sandwiches here!"
With this bold declaration gaining the attention of players, railbirds, and tournament officials alike, Tryba soon found himself embroiled in conflict he had not anticipated. The floor quickly arrived to usher Tryba out of the tournament area, and he was assessed a brief penalty for his misconduct.
"What is this, a church?," Tryba asked, his hands shooting up to the heavens as the words spilled forth. "I said hot sandwiches anyway!"
After a discussion with Tryba's tablemates, who magnanimously agreed that his words bore no ill intent, Tryba was allowed to return to the table, and he began the tireless task of nursing his short stack back to health.