Event #48: $2,500 Limit Hold'em (Six Handed)
Zilele: 1
Event #48: $2,500 Limit Hold'em (Six Handed)
Ziua 1 terminat
Nivel: 9
Blinduri: 600/1,200
Ante:
Nivel 8 : 500/1,000, 0 ante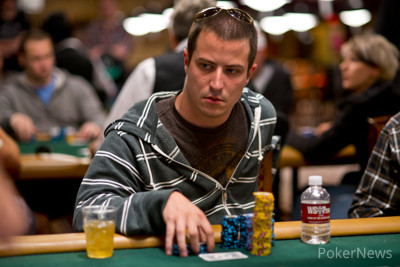 A total of 343 runners took their spots at the starting line this afternoon for Event #48 ($2,500 Limit Hold'em Six-Handed), and after eight full levels of limit action, just 119 have survived the slow but steady carnage.
When the day began, the atmosphere in the Brasilia Room was subdued relative to the usual excitement generated at World Series of Poker events, with much of the energy in the Rio being devoted to the Big One for One Drop high-roller event being held across the hall. Nonetheless, the action gradually picked up its pace, with professionals trickling in throughout the late registration period to try their hand at Hold'em's traditional variant.
Among the notable names to fall short here on Day 1 were Barry Greenstein, Andre Akkari, Jeffrey Lisandro, J.C. Tran, Kenna James, Chris Tryba, Ylon Schwartz, and Dwyte Pilgrim. Phil Hellmuth also hit the rail, in the particularly cruel fashion that has become the "Poker Brat's" trademark, after getting four bets in preflop with


. Unfortunately for Hellmuth, Marco Johnson went exploring with a marginal hand, and he found trips on the river to send Hellmuth home in a huff.
Circuit grinder Paul Mattioda emerged from the fray as the unofficial chip leader, weaving through the minefield known as Day 1 to steadily build a stack of 57,900 when play concluded. With this ammunition in his arsenal heading into Day 2, Mattioda will be looking to add his first WSOP cash, a final table run, and perhaps even a shiny gold bracelet to his growing poker resume.
Mattioda has company when it comes to stack size, however, with dangerous pros like Marco Johnson (46,600), Jon Turner (43,800), Tom Schneider (38,000), David "Bakes" Baker (35,800), and Joe Cada (20,400) hot on his heels. In addition to these notable names, defending champion Ronnie Bardah (30,200) will also return tomorrow with an above average chip stack, looking to win this event for the second consecutive year.
Check back with PokerNews tomorrow afternoon at 2:00 p.m. local time to follow all of the action live from the Rio, as the $2,500 Limit Hold'em Six-Handed event continues!
Nivel 8 : 500/1,000, 0 ante
Here are the unofficial chip leaders and counts for notable names at the end of this first day of play.
Jucător
Fise
Progres

Paul Mattioda

57,900

Ray Henson

53,900

-11,100

Marco Johnson

46,600

Jon Turner

43,800

Danny Warchol

41,600

Tom Schneider

38,000

-200

David "Bakes" Baker

35,800

11,200

Otto Richard

31,800

Ronnie Bardah

30,200

10,800

Joe Cada

20,400

11,500

Hal Lubarsky

19,100

10,600

Max Pescatori

14,100
Nivel 8 : 500/1,000, 0 ante
The remaining 119 players have bagged and tagged their chips for the evening, and we will have unofficial end of day chip counts for you shortly.
Nivel 8 : 500/1,000, 0 ante
Phil Hellmuth made his stand by getting four bets in before the flop, and two other players called to see the



hit the felt.
After a bet put Hellmuth all in, the two players checked down the turn (

) and river (

).
"I've got aces!," announced Hellmuth, obviously expecting to win the hand. "You've got the jack-eight offsuit?!"
Marco Johnson had quietly rolled over the

for trips on the river, and this sent Hellmuth storming towards the exit, but not before he got one last word in for his former tablemates.
"Yeah, you got four bets in with the jack-eight off, I saw that," shot Hellmuth, the disdain dripping from his every word as the other players laughed it up. "I'm glad you all are having so much fun."
Jucător
Fise
Progres

Phil Hellmuth

Eliminat
Nivel 8 : 500/1,000, 0 ante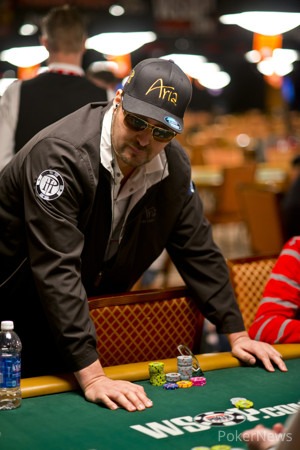 With the a flop of



already spread across the felt, Phil Hellmuth tried to move his opponent off the hand with a raise to two bets.
Unfortunately for the "Poker Brat," the player flatted to see the

drop in on the turn. Hellmuth slowed down with a check, and he tanked for a bit after a bet into him.
Eventually, after squeezing the life out of his cards, Hellmuth flashed the

to his opponent before mucking his hand.
Despite failing to gain any traction here thus far, Hellmuth's patience is legendary, and he is more than capable of running up a stack in a hurry.
Jucător
Fise
Progres

Phil Hellmuth

6,800

400
Nivel 8 : 500/1,000, 0 ante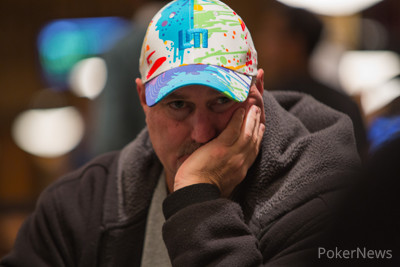 As the field has been whittled down, slowly yes, but steadily throughout the day, the professionals have demonstrated their natural aptitude for the limit format.
Multiple bracelet winners Phil Hellmuth, Eric Froehlich, David "Bakes" Baker, Barry Shulman, Max Pescatori, Tom Schneider, and David Chiu have all survived through nearly eight levels of play.
Defending champion Ronnie Bardah is also still alive as he attempts to win this event in consecutive years, while 2009 Main Event champ Joe Cada has also built a stack with which to make a Day 2 run.
There are also many pros still with chips who are attempting to win their first WSOP bracelet, including Jonathan Little, Jon Turner, Mike Leah, and Ray Henson.
With the limit format demanding extreme patience, an ability to read hands accurately, and a knack for controlling the size of the pot, the fact that so many recognizable pros are still competing for this title is a testament to their skills, and to the subtle beauty of Limit Hold'em.
Nivel 8 : 500/1,000, 0 ante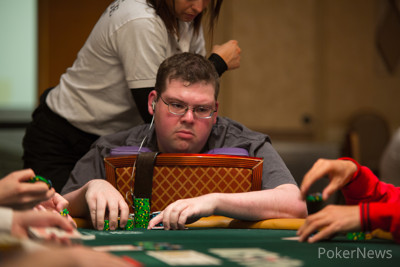 We caught the tail end of a clash between Phil Hellmuth and Eric Froehlich, with the "Poker Brat" coming up on the short end of the stick.
Neither player made a pair by the river, but when "E-Fro" rolled over the

his kicker gave him the advantage over Hellmuth's

.
Hellmuth winced noticeably when he saw the bad news, but he quickly regained his composure to knock the table and offer his fellow pro a "nice hand."
Nivel: 8
Blinduri: 500/1,000
Ante: