Another Day, Another $1,500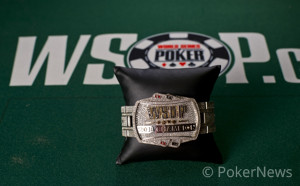 It's time for another $1,500 No-Limit Hold'em tournament today. But just another one doesn't do tournaments like this justice since they are hugely popular. There already have been some $1,500 No-Limit Hold'em tournament with the biggest one of course being the Millionaire Maker at the beginning of the series. The fields have been massive and so were the first prizes.
Today's $1,500 No-Limit Hold'em Event might be just a little bit easier to maneuver through than the past ones, since the $111,111 One Drop High Roller still has a lot of World Class players participating. But make no mistake, there are more than enough tough players left who are willing to pony up $1,500 for a no-limit hold'em tournament. To win it you must outsmart all of them, and getting lucky in a sport or two might come in handy as well.
The tournament will start at noon sharp. Players will start out with 4,500 in chips and the first level will be 25/25. Levels will last an hour and they'll play 11 of them today. We'll be there from start to finish to bring you all the updates.
| Event | | | Winner | Entries | First Prize |
| --- | --- | --- | --- | --- | --- |
| 4 | NLHM | 6-max | John Beauprez | 1,096 | $324,764 |
| 6 | NLHM | Millionaire Maker | Benny Chen | 6,343 | $1,198,780 |
| 14 | NLHM | | Jonathan Taylor | 1,819 | $454,424 |
| 17 | NLHM | | Athanasios Polychronopoulos | 2,105 | $518,755 |
| 24 | NLHM | | Corey Harrison | 1,731 | $432,411 |
| 28 | NLHM | | Jason Duval | 2,115 | $521,202 |
| 40 | NLHM | | Jared Hamby | 2,161 | $525,272 |
Someone who's most likely not participating in today's event is Vivek Rajkumar. He accumulated 674,000 in chips on the first day of the One Drop High Roller. Check out the video Sarah Grant made yesterday with him: