Thirteen From the Money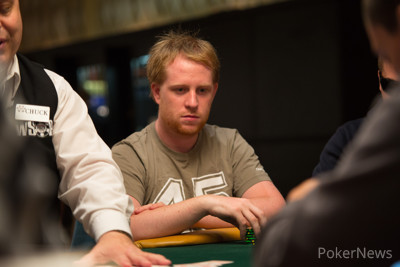 Just 256 players are still active in this tournament from the 2,247 who started yesterday at noon. With 243 players making the money the bubble is already kind of looming. When the tournament restarts at 1 p.m. it shouldn't take to long for hand for hand play to begin, which should make for an exciting first part of the second day.
Chip leader going into day 2 is Yun Lo from Livermore, California. He started out with 4,500 in chips like everybody else, but after eleven hours of play he bagged 140,000. Number two on the list is Tue Phan from Newburgh, Indiana with 115,000 in chips. Two time bracelet winner Michael Gathy from Brussels, Belgium is third in chips with 109,500.
There are more than enough recognizable names left in the tournament. Austrian player Thomas Butzhammer is in sixth with 92,900, Dutch player Govert Metaal has 80,900, Eric Baldwin gathered 73,900, Matt Stout has 56,6500 and Kevin MacPhee tagged his bag with 53,100, to name just a few.
The first level to be played will be level 12 (600/1,200 with a 200 ante). The money stage of the tournament should be reached quite quick, 243 of the remaining 256 players will walk away with at least $2,730. They are set to play ten levels today, with an one hour dinner break after the sixth level.
While you are waiting for updates from the field, here is Sarah Grant with your June 28th update.