Get Ready for Some Mixed Games!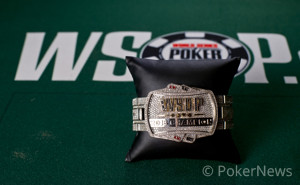 Welcome back to the Rio for Day 3 of the 2013 World Series of Poker! Today, we are kicking off the mixed game tournaments with the $2,500 Omaha/Seven-Card Stud Hi-Low 8-or-Better. Last year, 393 players sat down to try and win this bracelet, and at the end of three long days of split and scooped pots, Ukrainian poker pro Oleskii Kovalchuk outlasted them all, winning $228,014, along with a beautiful gold bracelet.
Kovalchuk had to best an absolutely stacked final table that included German pro George Danzer, veteran player Mark Gregorich, online legend Yuval "Yuvee04" Bronshtein, and WSOP commentator Norman Chad. There was a laundry list of pros who cashed in this event, including Jeff Lisandro, Bryan Devonshire, Allen Bari, Scott Seiver, and former November Niner Jeremy Ausmus.
Play is scheduled to get underway at 5 PM local time, and we will be playing eight levels today. After that, we will bag and tag the chips for the night, and the remaining survivors will come back tomorrow at two, and try to play down to a final table. We will have all the updates all night here at Pokernews, so don't go anywhere!