Tensions Rising in the $25K
Nivel 4 : 250/500, 75 ante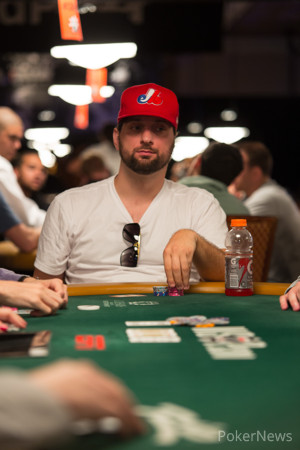 Tensions have been rising a bit here in the early goings of the $25,000 No-Limit Hold'em (Six Handed) event. Two spats have recently broken out, one involving Luke Vrabel and Erick Lindgren, and the other involving Haralabos Voulgaris and Sergii Baranov.
In the confrontation between Vrabel and Lindgren, there was a hand where Vrabel was faced with a bet of a few thousand and tanked for a bit of time. So much time that Lindgren opted to exercise his right to call the clock. Vrabel didn't take too kindly to this. First, he fired off a tweet that said, "Eric lindgren called a clock on me after 1 minute on the turn... If I owed half the room money I'd stay quiet #itson #zenslayer," and he followed that up by calling the clock on Lindgren a little bit later. When Vrabel called the clock on Lindgren, it was a much larger bet, one that was essentially for Lindgren's tournament life.
Following the clock-calling incidents, the two exchanged several words back and forth. Lindgren argued that Vrabel's clock call was much more in the wrong than Lindgren's was, but Vrabel didn't agree. Vrabel began to spout some words towards Lindgren about his recent and well-documented money issues, which Lindgren didn't take too kindly. Eventually, the floor was summoned and the two players were pulled to the side. After given a warning, they returned to the table, but it didn't end there.
Vrabel made a comment about Lindgren being able to win to cover some of his money problems. Lindgren cracked right back, saying that he looked Vrabel up on Hendon Mob and poked fun at his results, saying that all he does is min-cash whereas Lindgren is a multi-bracelet winner. Then, Daniel Negreanu got involved when he got word of what was happening from Lindgren.
Negreanu was seated at an adjacent table and came over to say his own piece. While he joked towards Vrabel, he repeatedly referred to him as "Catfish" because of an online poker incident involving Vrabel where he allegedly pretended to be a female in order to receive backing from other players. Negreanu meshed this incident with the Manti Te'o catfishing incident and joked away. Eventually, Vrabel received a penalty for his comments.
Since returning from the penalty, both Vrabel and Lindgren haven't said much to each other, but have rather simply been going about their business.
In the incident with Voulgaris and Baranov, the two had their feet tangle up a bit under the table. Voulgaris wanted to extend his legs, and he asked Baranov to please move his feet so he could do so. Baranov wouldn't move he feet for Voulgaris to stretch out, but Voulgaris did so anyway. Baranov didn't take too kindly to this and attempted to kick Voulgaris under the table. Baranov instead kicked the leg of the table and hurt himself. The two exchanged some words, but it doesn't look like either is ready to give up any ground.
Baranov has been know for some antics before. In last year's World Series of Poker Europe Main Event, Baranov bluffed an opponent and proceeded to show. He followed that up by saying, "Fives good?" to rub the bluff in. "What's wrong, you have no balls?" Baranov continued as the table laughed.
A few seconds later, Baranov added, "You know what we do in Ukraine? We eat soup... with brains... brains of our enemies. Just ask Eugene [Katchalov], he's from Ukraine and he knows."