Final Table Interview: Loni Harwood
Nivel 28 : 30,000/60,000, 10,000 ante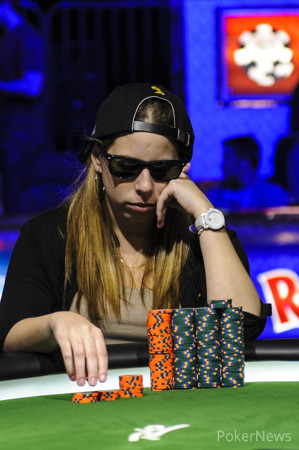 Entering this event, seven women had reached final tables in open events during the 2013 World Series of Poker. That number included Loni Harwood, who was among the final nine players in Event No. 31: $1,500 Pot-Limit Omaha.
Now, Harwood is the first woman to make two final tables this summer, and is attempting to become the first woman other than Vanessa Selbst to win an open WSOP event since 2007.
With a great summer track record that includes four cashes, we wanted to talk to Harwood about her place in a male-dominant industry, get her opinion on other top females, and the future of women in poker.
As a WSOP Circuit grinder, how do you compare those events to the WSOP?
This is like nothing I've ever experienced. It's really cool because to make one final table is so awesome, but to make two is just unbelievable. Of course the fields are larger so you have to consider your every move before you actually follow through. One mistake could cost you a money finish so being more aware at these WSOP events are critical.
How would you compare yourself to other female pros like Vanessa Selbst, Liv Boeree, etc.?
I wouldn't at all compare myself to any of them. Vanessa Selbst is a beast. I'm just a grinder trying to be a beast one day. You know, I look up to them. They're all established and confident in their games. I still have a lot to learn and think it will take a few more years before I ever reach their status, if that ever happens. I think right now I'm a small-time beast.
Do you see yourself becoming recognized as one of the best female players in the future?
Hopefully one day. I think it's very possible. If I continue to work hard, play every day, and improve my skills then it's very possible. I won't say it's a guaranteed thing to happen but I'm confident in my abilities.
What have you done to improve your game over the years?
I've never had any kind of coaching for no-limit hold'em but I have had coaching in Omaha. I put in a high volume of playing and talk hands with other guys. Other than that I just try to play my best in any event and try to win.
You also final tabled the $1,500 PLO. What's your background with mixed games?
I have no background what so ever. I had never played, decided to have some coaching and I think I just got really lucky.
What do you hope to see for females in poker in the future?
Great success. There are a lot of great women out there but there's not enough. For myself, I hope to win the Main Event. That would not only be a great thing for me but it would be great for the industry to see a woman finally make the final table and then go on to win.
How do you think the acceptance of women on the tables has changed since you started playing in 2008?
I love that no one thinks women are good because it helps my image as the only female on the table. I think people are definitely more accepting to the idea of women in poker but I don't think people will actually begin to believe that we are as competitive or as strong as men until a woman actually wins a major event.
In regards to the final five at the final table, is there any player you're most concerned with?
Not really. They're all good players but they're no different than me. We're all trying to play our best and win.
Is there anything about yourself that you want the poker community to know?
I'm your average 23-year old girl just trying to make it big.