Event #54: $1,000 No-Limit Hold'em
Zilele: 3
Event #54: $1,000 No-Limit Hold'em
Ziua 3 început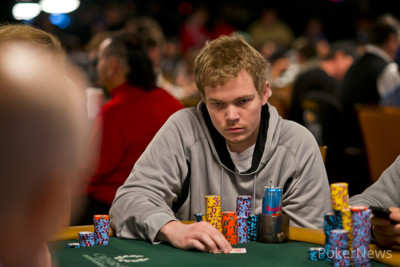 Barry Hutter leads the final 14 heading into the Day 3 of Event #54: $1,000 No-Limit Hold'em. Hutter has over 2 million in chips, nearly twice as much as his nearest competitor, Joseph Wertz, who has just over 1 million.
Play resumed at Level 22, with the big blind at 16,000. There are several short stacks, so with blinds this high it might not take long to reach the final nine players and the official final table. Even the short stacks can be dangerous, though, as a single double up will put them right in the thick of the competition.
Cards will be in the air at 1 p.m. local Las Vegas time, so stay with us here at PokerNews.com as bring you all the updates while the players determine the next World Series of Poker Bracelet Winner!
Meanwhile, here's Kristy Arnett with an update of everything happening today at the Rio.

Nivel: 22
Blinduri: 8,000/16,000
Ante: 2,000
Nivel 22 : 8,000/16,000, 2,000 ante
Day 3 has officially started. Here's the table draw for the remaining players.
| Table | Seat | Player | Chips |
| --- | --- | --- | --- |
| 452 | 1 | Joseph Wertz | 1,069,000 |
| 452 | 2 | Barry Hutter | 2,054,000 |
| 452 | 3 | Kenneth Gregersen | 351,000 |
| 452 | 4 | Dana Castaneda | 382,000 |
| 452 | 5 | Matthias Bednarek | 360,000 |
| 452 | 7 | Jacob Bazeley | 650,000 |
| 452 | 9 | Orjan Skommo | 340,000 |
| | | | |
| 453 | 1 | Thomas Hall | 931,000 |
| 453 | 2 | Jason Bigelow | 569,000 |
| 453 | 3 | Molissa Farber | 188,000 |
| 453 | 4 | Philippe Clerc | 407,000 |
| 453 | 7 | Rupesh Pattni | 192,000 |
| 453 | 8 | Michael Zucchet | 968,000 |
| 453 | 9 | Nicco Maag | 199,000 |
Nivel 22 : 8,000/16,000, 2,000 ante
We're just 15 minutes into the day here in Event #54, but so far action has been slow with hardly any post flop action being made. Players are taking down most pots with a raise or a shove preflop. It's as if players are trying to play mistake free poker as the final table bubble approaches.
Nivel 22 : 8,000/16,000, 2,000 ante
Play has started a little slow at both tables, with most hands ending preflop. At table 453, we just saw some of the first notable action of the day in a hand that looked as though it could develop into a serious confrontation.
Thomas Hall opened the preflop action with a raise to 32,000, and then Jason Bigelow three-bet to 80,000. Everyone else at the table folded around to Hall, who went into the tank. He thought for about three full minutes before pushing forward his calling chips.
The flop came



, and Hall quickly checked. Bigelow then bet 100,000, and Hall went back into the tank. After thinking for over a minute, he silently slid his cards toward the dealer, and Bigelow took the pot.
Nivel 22 : 8,000/16,000, 2,000 ante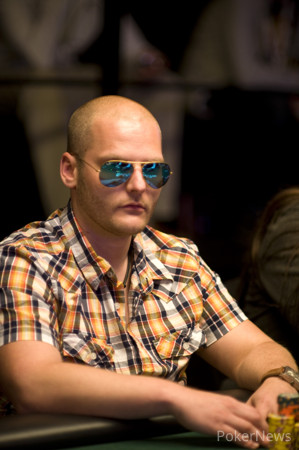 Action folded all the way around to the small blind where Nicco Maag jammed for 177,000 total.
Thomas Hall in the big blind went into the tank, and after about a minute and a half he made the call.
Hall:


Maag:


The flop cam down


giving Hall outs to a backdoor straight, but those outs were taken away when the

hit the turn. The river was the

securing the double up for Maag early here on Day 3 as he shoots to make the final table.
Nivel 22 : 8,000/16,000, 2,000 ante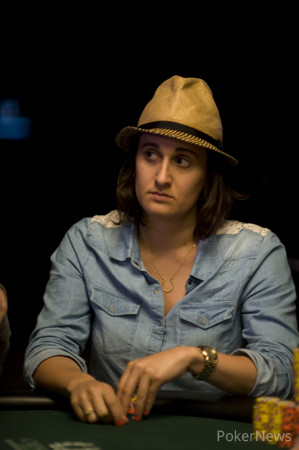 Thomas Hall raised to 32,000 from the button, and Molissa Farber pushed all-in from the big blind for 120,000. Hall thought for a few moments, and made the call.
Farber:



Hall:


The flop gave the players a good sweat, coming


. Farber was in the lead with her pocket fours, Hall flopped a lot of outs: Any spade would give Hall a flush, a nine would give him a straight, and either a queen or a ten would give him a higher pair. After the players joked a bit about "Too Many Outs Syndrome," the dealer completed the board with the

on the turn and the

on the river. Hall missed all his outs, and Farber's fours held up. She doubled up and had 280,000 in chips after the hand.
Nivel 22 : 8,000/16,000, 2,000 ante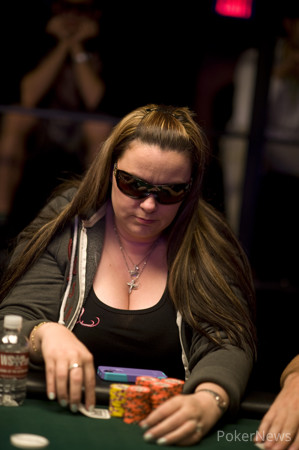 In a hand yesterday you may remember when Dana Castaneda doubled through Matt Weber with aces. Now she's at it again after find two more aces against Jacob Bazeley.
After an open to 35,000 from Jacob Bazeley, Dana Castaneda made a reraise to 76,000. Action folded back to Bazeley who opted to move all in with a covering stack. Castaneda snap called.
Castaneda:


Bazeley:


The flop was safe for Castaneda when it came down



giving little hope to Bazeley. The turn

did manage to provide the entire table a little sweat. Unfortunately for Bazeley, the river

was not the out Bazeley needed and Castaneda was able to get it done with aces for a second time here in the tournament
Nivel 22 : 8,000/16,000, 2,000 ante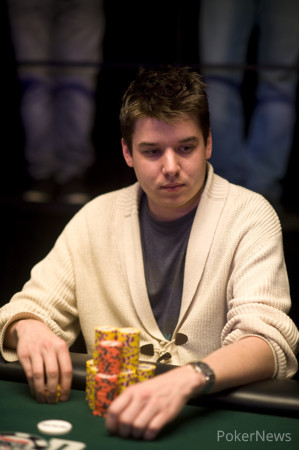 Philippe Clerc has just doubled through Jason Bigelow in a big way to put himself near the top of the chip counts.
Preflop, Bigelow opened to 35,000. From the big blind, Clerc reraised to 80,000. Bigelow called.
The flop came down


and Clerc led at it for 64,000. Bigelow reraised all in and Clerc snap called.
Bigelow:



Clerc:


It was a mighty cooler for Bigelow who had flopped top pair against Clercs overpair. The board bricked out with a

and an
and with that Clerc was able to snag a crucial double up.