Event #54: $1,000 No-Limit Hold'em
Zilele: 1
Event #54: $1,000 No-Limit Hold'em
Ziua 1 terminat
Nivel 11 : 500-1,000, 100 ante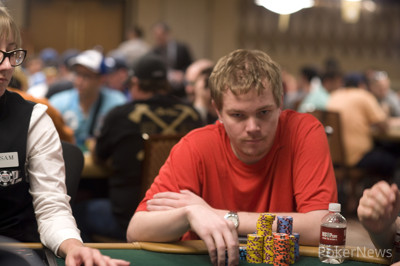 After 11 full levels of exciting No-Limit action, an enormous field of 2,883 runners has been whittled down to just 239, with yet another tournament reaching the payout phase during the first day of play. Along the way, a number of notables and professional players came and went, while a few unique names surged to the top of the chip counts.
The day saw several professionals try to navigate the minefield known as Day 1 of these low buy-in events, with Olivier Busquet, Athanasios Polychronopoulos, Victor Ramdin, Tony Dunst, Matt Stout, Randy Lew, and Bryan Micon just a few of the pros to go busto before the money bubble burst.
Barry Hutter emerged as the overwhelming chip leader by the time bags were tagged, after amassing a stack of 251,000 to end the night. He will be joined by the regally named Marcus Aurelius (150,800), and Warwick Mirzikinian (111,700), while last year's Main Event runner-up Jesse James Sylvia (83,000) is threatening with a late charge at the end of the night.
The action will resume tomorrow at 1 p.m. local time, with the remaining 239 players returning to the Amazon Room to continue the chase for a gold bracelet. Check back with PokerNews at 1 p.m. local time to follow all of the action live from the floor of the Rio, as the field plays ten levels in hopes of reaching the final table.
Nivel 11 : 500-1,000, 100 ante
Jucător
Fise
Progres

Edward Nassif

251,000

251,000

Barry Hutter

211,000

211,000

Marcus Aurelius

157,800

22,800

Matthew Newcombe

126,200

126,200

Orjan Skommo

125,200

125,200

Warwick Mirzikinian

111,700

-8,300

Sameer Aljanedi

111,200

111,200

Eric Rivkin

110,200

110,200

Nicco Maag

105,700

105,700

Jim Collopy

95,800

95,800

Rocco Palumbo

93,400

93,400

Carter Swidler

88,100

88,100

Adam Lippert

87,600

87,600

Rupesh Pattni

85,900

85,900

Aaron Mermelstein

84,000

84,000

Jesse Sylvia

83,000

40,000

Christopher Kozlowski

82,800

82,800

Thomas Hall

78,100

78,100

Ira Basil

77,700

37,700

James Davis

76,700

76,700

Louis Salter

76,000

76,000

Jordan Knackstedt

74,700

74,700

Raffi Soualian

72,500

30,475

Lee Downing

69,300

69,300

Philippe Clerc

69,000

69,000
Nivel 11 : 500-1,000, 100 ante
Players are playing three more hands and bagging it up for the night.
Nivel 11 : 500-1,000, 100 ante
Warwick Mirzikinian just put himself at risk twice on the bubble with a more than healthy stack to survive through the cash. But Mirzikinian's double bubble gamble antics paid off for him allowing to double up twice right here on bubble. The most interesting part is that he doubled twice through the same player.
We caught up to the first hand on the river. Mirzikinian had shoved all in on the river of a board reading





and the player across the table from him made the call. The two players sat in silence while they waited for the floor to tell them it was ok to turn up their hands. Finally, after about four minutes of waiting, the ok was given and the two men showed their hands. Mirzikinian turned up

for the second nut flush, and it was good as his opponent showed


for just a flush with his

.
That double up brought Mirzikinian up to just about 60,000 in chips.
The very next hand the same two players got into a tangle again. Mirzikinian ended up all in once more before the flop and the same gentleman at the other end of the table called him again, still with a covering stack. Once again the players were forced to wait about five minutes before turning up their hands and when they finally did, this is what was shown:
Mirzikinian:



Opponent:


When the hands were shown, the gentleman stood up from his chair and fist pumped because he was ahead in the hand so far.
The dealer put down the flop of



giving Mirzikinian no extra outs, and keeping the gentleman out front. The turn was the

keeping Mirzikinian's opponent ahead in the hand. But the river was everything Mirzikinian could've asked for and more when it came the

to grant him his second double up through the same player in two hands.
With that Mirzikinian jumped up to just about 120,000 chips while his opponent was left with just a very short stack.
That is how Mirzikinian went from just an average stack starting hand for hand play, to one of the chip leaders in the room.
Nivel 11 : 500-1,000, 100 ante
Players are quickly approaching the money bubble and hand-for-hand play has begun.
Nivel 11 : 500-1,000, 100 ante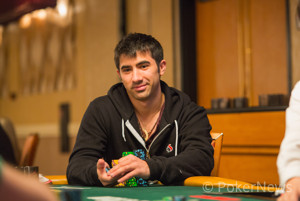 After a pair of players shoved all in before his turn to act, last year's Main Event runner-up Jesse James Sylvia looked down to find a pair of cowboys in the hole.
After snapping off with his
, Sylvia was pleased to see his opponents both held
, and after a board full of baby cards rolled out, he notched a huge triple up right before the last level of the night.
Nivel: 11
Blinduri: 500/1,000
Ante: 100
Nivel 10 : 400-800, 100 ante
We didn't catch all the action, but we did see Tony Dunst heading to the rail after shipping off his stack to an opponent. Dunst was holding


against an opponent's


.
The board ran out





giving no improvement to Dunst's hand and he was sent to the rail.
Nivel 10 : 400-800, 100 ante
Earlier we reported about how Anthony Spinella eliminated Matt Stout from the tournament. It's 3 hours later now and Spinella is stirring up trouble again for other players at his table.
On a board of



Spinella check raised all in against another opponent. The opponent called and the two went to show down.
Spinella:



Opponent:

"Give me that royal, one time," Spinella said to the dealer.
And the dealer obliged, giving him the

on the turn for the unbeatable coconut of nuts. By that time, his opponent had got up from the table and walked out of the room realizing that he was now drawing dead and no matter what happened, he would be eliminated.
The river came the
extending Spinella's royal flush to six cards where at any other table game or cash game he would've received possibly hundreds of thousands of dollars. Unfortunately for him, his only prize is another post on PokerNews.com and the short stack of his opponent.
Oh well, could be worse.