Event #54: $1,000 No-Limit Hold'em
Zilele: 1
Event #54: $1,000 No-Limit Hold'em
Ziua 1 început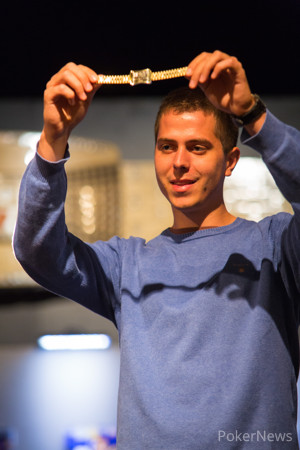 We're just minutes away from the start of Event #54: $1,000 No-Limit Hold'em, which represents the last $1,000 no-limit event from the summer, not including Event #58: $1,111 Little One for One Drop No-Limit Hold'em.
We're also just hours away from Event #55: The $50,000 Poker Players' Championship so many players may be using this event as a warm up, or may not play at all. Either way, we're sure to see plenty of lower stakes players taking their shot here today in Event #54.
The last $1,000 no-limit hold'em event was won by Norbert Szecsi and he took home $345,037 for his victory. We may see Szecsi here today attempting to take a second shot at another title here today in Event #54. That event, like all other $1,000 no-limit hold'em events here at the World Series of Poker, lasted for three days and saw more than 2,000 entrants. Today we can expect to see similar numbers.
We're just minutes away from the "Shuffle up and deal," here in the Brasilia room. Just like the other $1,000 no-limit hold'em events, the players will begin with 3,000 in tournament chips and the blinds at 25/25. The players will play out 10 levels today and we may even see them make the money here on Day 1, but only time will tell. Make sure you stay here with us at PokerNews.com as we begin our journey to crowning a new World Series of Poker champion.
Nivel: 1
Blinduri: 25/25
Ante:
Tournament director extraordinaire Jack Effel just gave that famous announcement, and the cards are in the air here in the Rio's Brasilia Room.
Here are a few of the familiar faces we've spotted so far in the Brasilia Room's Bronze and Red sections.
Nivel 1 : 25/25, 0 ante
Here are some players who showed up bright and early for action here on Day 1. Both Matt Affleck and Ryan Laplante think it's gonna be a big one.
1k NL today. Gonna be a big one. Prob 3k runners
Follow @mcmattopoker
Playing a wsop 1k today. 3k starting stack, should have 2500+ runners. Could really use the deep run, going to give it my all. #WSOP54
Follow @Protentialmn
Jucător
Fise
Progres

Paul Lieu

3,000

Matt Affleck

3,000

Ryan Laplante

3,000

Joe Serock

3,000

Bryan Devonshire

3,000

Victoria Coren

3,000

Team Pro

Jonathan Little

3,000

Tommy Vu

3,000

Allan Le

3,000

Frank Kassela

3,000
Nivel 1 : 25/25, 0 ante
Shane Scheleger is in the field today, and he thinks it's way to hot in here, but please keep your clothes on.
Also in the field playing her last $1,000 event of the summer is Cherish Andrews.
Tony Dunst didn't go party last night so he could be here with us today as well.
The Brasilia Room is where the World Series of Poker has hung banners celebrating past Player of the Year recipients, and with his mug staring back at him from the Rio's rafters, 2010 POY Frank Kassela is off to a great start.
Sitting at the table directly in front of the PokerNews Live Reporting desk, Kassela just doubled his starting stack on one of the first deals of the day.
We missed the action, but with the final board reading





, the two-time bracelet winner had his


triumphantly tabled, while his stunned opponent could only look down at his


in disappointment.
After notching the early elimination, Kassela now has a double stack, and with his edge in experience over the largely amateur field, we expect him to use those chips aggressively as the day progresses.
Nivel 1 : 25/25, 0 ante
Laying low with their glases and hidden amongst the field we found Brian Micon and Niall Farrell.
As is typically the case here at the World Series of Poker, the long hours of preparation and anticipation that accompany a player's first foray into the tournament floor can be dashed in an instant.
Two unfortunate players found that to be true early, with Marcos Jose Garcia claiming their entire stacks just a few hands after taking his seat at the table.
We heard the dealer announce "all in, call, and call!," and by the time she dropped the river card, Garcia had tripled up in dominant fashion.
Apparently the flop fell



, and one player with


got his stack into the middle in a hurry. When he was called in two spots, he seemed to suspect the bad news, asking "is my straight any good here boys?"
Garcia turned over the


, and indeed, his opponent's lower straight was beaten. The third player in the hand held


for top pair and a redraw to the chop, but the turn (

) and river (

) changed nothing.
"Welcome to the table, sir," offered Frank Kassela, while Garcia eagerly stacked his new chips.
"Thanks," he replied casually. "The deck hit me in the face."
Jucător
Fise
Progres

Marcos Jose Garcia

8,500