Event #54: $1,000 No-Limit Hold'em
Zilele: 2
Event #54: $1,000 No-Limit Hold'em
Ziua 2 început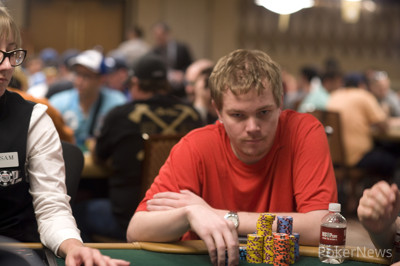 Yesterday one of the greatest spectacles in all of poker took place, as nearly three thousand runners took to the Rio to compete in one of the World Series of Poker's most popular events. A total of 2,883 players plunked down a grand each for the chance to play on poker's premier stage, with thousands of amateurs rubbing elbows with the likes of Olivier Busquet, Athanasios Polychronopoulos, Victor Ramdin, Tony Dunst, Matt Stout, Randy Lew, and Bryan Micon, just to name a few.
While those pros failed to survive the onslaught of all ins and bad beats so common to Day 1s, several notable names will be returning this afternoon with a bag of chips, and a shot to earn that coveted gold bracelet. Barry Hutter emerged as the overwhelming chip leader by the end of 11 full levels of play yesterday, and his 211,000 stack gives him a wide lead over the field. Marcus Aurelius, and yes that is his real name, also took down a few huge pots throughout the day to bag and tag 157,800 by the end of the night. Other chip stacks to watch out for belong to pro Warwick Mirzikinian (111,700), last year's Main Event runner-up Jesse James Sylvia (83,000), and Nico Maag (105,700).
After the money bubble was burst late last night, the play picked up and the bustouts commenced, so expect the action to be just as intense right from the start here today. Take a look at the following video celebrating Steve Sung's recent bracelet win, and then check back with PokerNews at 1 p.m. local time to follow all of the action live from the floor of the Rio, as the field plays ten levels in hopes of reaching the final table.
Nivel: 12
Blinduri: 600/1,200
Ante: 200
Nivel 12 : 600/1,200, 200 ante
After a raise of 2,500 from early position, action folded to J.C. Tran who was on the button. He moved all in for 12,100 total and action folded back to the original raiser. After thinking it through for about 30 seconds, the player called and the hands were turned up.
Tran:



Raiser:

The board ran out





giving Tran a set to double up early here on Day 2.
Jucător
Fise
Progres

JC Tran

27,800

11,100
Nivel 12 : 600/1,200, 200 ante
Barry Hutter came into the day as the chip leader. With being the chip leader Hutter will be staying aggressive throughout the day. He started off his aggression by betting out 2,500 preflop. His opponent Jameson Painter 3-bet to 5,600. Hutter who saw that Painter only had 20,000 left pushed Painter all in.
Painter tanked for a better part of a minute before releasing his hand. We expect Hutter to be putting the pressure on his opponents all day and he had 220,000 after that hand.
Nivel 12 : 600/1,200, 200 ante
Robert Cheung told us that he got his


all in before the flop against another player. When we got to the table, Jacob Phillips was holding
against Cheung's


.
"Pocket eights versus ace king," Cheung explained as he was waiting for his payout ticket. "King on the river."
We were able to quickly catch the board before it was thrown into the muck. It read





, giving Phillips a winning pair of kings to bust Cheung from the tournament.
Nivel 12 : 600/1,200, 200 ante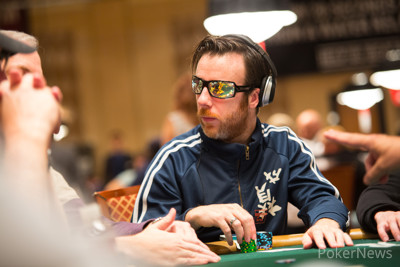 Fergal Nealon goes by the name "@midnitekowby" on Twitter, and after staring down Jesse James Sylvia in a heads-up duel, the Irishman proved that gunslinging handle to be quite appropriate.
We caught the action on the river, with the board reading





, and more than 12,000 in the pot waiting to be won.
Nealon fired out a single orange T5000 tournament chip and stared across the table at Sylvia, who is no stranger to tough decisions after finishing 2nd in last year's Main Event. Sylvia went into the tank, and stayed there for more than three minutes, slowly riffling a stack of chips while mulling his options.
Eventually, Sylvia cut out a stack and pushed it forward for the call, while Nealon quickly turned over


, confident that his ace-high was the best hand. Sure enough, Sylvia's hand was shot into the muck, and the sizable pot was pushed to Nealon, who begins his Day 2 by besting one of the game's young guns.
Nivel 12 : 600/1,200, 200 ante
We were walking by and saw that Erik Seidel was having trouble. He had bet 2,400 in the cutoff preflop. The button Jukka Vainio pushed all in for 15,000. Action fell back on Seidel. He counted out his stack and realized that if he made the call it would be for half his stack. After taking one more peak Seidel put in the call.
Seidel:



Vainio:


Vainio lead on the flop with the



. The turn gave Seidel heart outs with the

. The river was the

and that doubled up Vainio while chopping Seidel's stack down to 13,500.
Nivel 12 : 600/1,200, 200 ante
After one all in and a call from Colin Ralls, Iori Yogo, current leader in the ANZ Player of the Year race, moved all in as well with a shorter stack, bringing all three players to a showdown.
All In 1:



Ralls:



Yogo:


"Well, at least I can hit the nut straight," the first all in player said.
The flop came down



, giving the all in player outs to a double gutter straight. The turn was the

though, keeping Ralls in the lead. The river came down the

allowing Ralls to scoop the big pot and move up the chip counts here on Day 2.
Nivel 12 : 600/1,200, 200 ante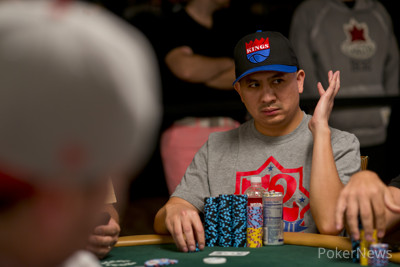 After entering this Day 2 with a short stack, J.C. Tran has taken down another big pot to move into more comfortable chip position.
We saw Tran all in for his last 16,400, with the final board reading




, and the


tabled. Jacob Bazeley held the


and his hand was second best, giving Tran the double up in this classic coin flip confrontation.
Shortly after this win, Tran doubled through again, and this time it was him holding big slick. Tran's


prevailed over an opponent's


after the board ran out





, and the dangerous pro doubled his 38,200 in consecutive coin flip hands.