No Third Poker Players' Championship This Year for Mizrachi

Nivel 9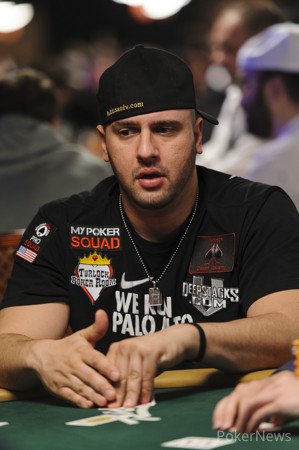 No-Limit Hold'em
We just came on a big hand involving 2010 and 2012 $50K Poker Players' Champion Michael "The Grinder" Mizrachi and Cole South.
Fifth street had been dealt, and with about 60,000 in the middle the board read





. It appeared South had checked and Mizrachi had fired a bet, as the latter had 35,000 sitting out in front of him with only about 25,000 left behind.
South paused for several seconds, then announced he was all in, his stack well exceeding that of Mizrachi. The Grinder sat up and leaned forward, beginning a couple of minutes' worth of consideration of what to do next.
"I got a pretty big hand," he said at one point, with South offering no response. Finally Mizrachi called, asking "full house?" as he did.
South let his cards provide the response. He didn't have a full house, but his


meant he'd made a club flush. Mizrachi slumped a little as he saw a hand that beat the one he was holding. He started to muck face down, then flipped his cards over and ahead where they landed in the middle of the table —


.
Mizrachi got up, wished everyone luck, and departed.