Lindgren Not Teaching Kenney Anything About Stud
Nivel 14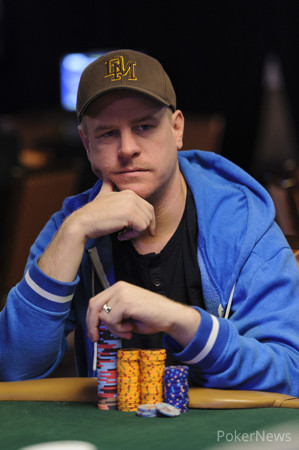 Stud
Mike Leah: (


) /

— FOLD
Bryn Kenney: (


) /




/ (

)
Joe Cassidy: (


) /

— FOLD
Erick Lindgren: (


) /



/ (

)
Mike Leah brought in with the

showing before Bryn Kenney completed the bet. Joe Cassidy called, then action folded to Erick Lindgren and he raised. Leah folded, Kenney called, and Cassidy called.
On fourth street, Lindgren led with the best hand, and both Kenney and Cassidy called. Then on fifth, Kenney picked up a pair of fours and bet out. Cassidy folded, but Lindgren called.
On sixth, Kenney fired another bet, and Lindgren called. Kenney then checked seventh, Lindgren bet, and Kenney called. Lindgren showed the



from the hole for two pair, aces and aces. Kenney shook his head and mucked.
"Did you get that on the end?" asked Kenney about Lindgren's two pair. "Or did you have it?"
Lindgren just smiled with his head down while stacking his chips and didn't respond.
"Nah, you would've raised me on sixth," added Kenney, thinking out loud, and sort of prying for more tips about how Lindgren played the hand.
"I'll tell you how to play stud when you tell me how to play no-limit [hold'em]," Lindgren joked, to which the whole table got a good laugh out of.
Jucător
Fise
Progres

Erick Lindgren

350,000

160,000

Mike Leah

350,000

-60,000

Joe Cassidy

235,000

30,000

Bryn Kenney

190,000

-200,000