Volpe Vanquished in Stud
Nivel 15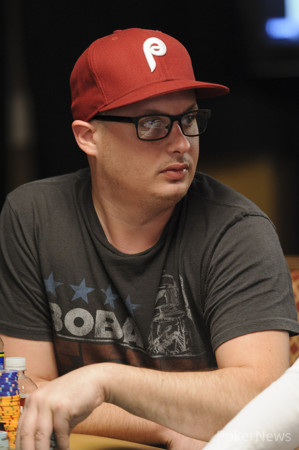 Stud
Erick Lindgren:


/



Fold
Mike Leah:


/




/


Paul Volpe:


/





After Erick Lindgren brought it in and Mike Leah completed, Paul Volpe raised to 30,000.
Lindgren responded by making it 45,000 and Leah bumped it to 60,000. Volpe called off for 52,000 and then Lindgren put in the additional 15,000. Lindgren then called a bet from Leah on fourth before folding to one on fifth.
Leah tabled a pair of aces and all Volpe could say was, "I'm in trouble."
Indeeded he was as he was looking at a gutshot straight draw to a ten. Sixth didn't deliver it and neither did seventh.
"Good luck in the Main," Lindgren said before Volpe collected his things and exited the tournament area.
Jucător
Fise
Progres

Mike Leah

600,000

360,000

Erick Lindgren

275,000

-285,000

Paul Volpe

Eliminat