Stud-8 Does in the 2005 WSOP Main Event Champ
Nivel 17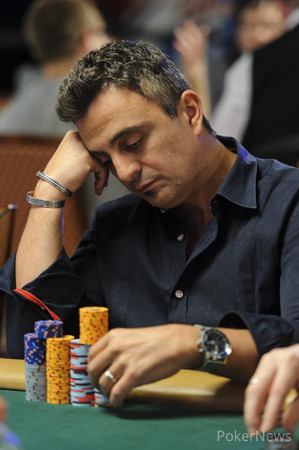 Stud-8
A series of three Stud-8 hands has led to the demise of 2005 World Series of Poker Main Event champ Joe Hachem.
Joe Hachem:


/




/


George Danzer:


/



/


Greg Mueller:


/


Fold
In the first, Hachem brought it in and George Danzer completed with the

showing. Greg Mueller came along, Hachem called and fourth street was dealt. Danzer maintained the lead and bet, which prompted Mueller to fold. Hachem called and then both players checked fifth. Danzer returned to betting on sixth, Hachem called and it was off to seventh. Danzer bet a final time and Hachem opted to fold, leaving himself just 7,000 behind.
In the very next hand, Hachem got all in but managed a chop. In that same hand, Gary Benson dealt a big blow to Mueller.
In what would be Hachem's final hand, Benson made a pair for high and Mueller made a 7-6-4-2-A for a low. They chopped up the 2005 champ's last chips and sent him to the rail in 25th place.
Jucător
Fise
Progres

George Danzer

1,160,000

381,000

Gary Benson

715,000

12,000

Greg Mueller

155,000

-400,000

Joe Hachem

Eliminat