Tommy Hang Eliminated in 13th Place ($128,620)
Nivel 19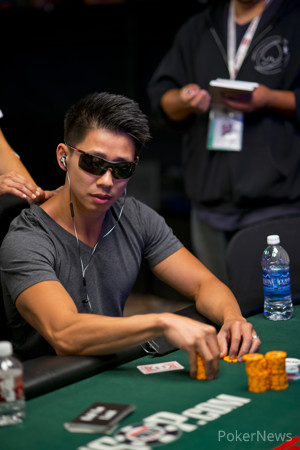 Razz
Tommy Hang:


/



/


Don Nguyen:


/



/

Tommy Hang completed and Don Nguyen looked him up. Hang, who took the lead on fourth, bet and Nguyen called. Hang then check-called a bet on fifth before check-raising on sixth. Nguyen called and then both players checked seventh. Hang tabled



for a 10-9-6-3-2 low, but it was no good as Nguyen rolled over



for a 10-7-6-5-4 low. Hang was left with just 11,000 after the hand.
Hang:


/




/


Matthew Ashton:


/




/


Nguyen:


/




/

In the next hand, Matthew Ashton completed and Don Nguyen called. Hang committed his last 1,000 and watched the side action. Ashton proceeded to check-call bets on fourth, fifth and sixth before leading out on seventh.
Nguyen called and showed



for a 8-7-4-3-2 low and Ashton mucked. Hang tabled


for a 10-6-4-3-A low and then took his leave just shy of the dinner break.