Event #56: $2,500 No-Limit Hold'em
Zilele: 2
Nivel 14 : 1,000/2,000, 300 ante
Players have resumed the tournament.
Nivel 14 : 1,000/2,000, 300 ante
Yu Kurita moved all in for 23,100 and found a call in Jesse Sylvia.
Kurita:



Sylvia:


Sylvia went to the flop way ahead and stay there the whole way, even though Kurita picked up a few outs on the turn. The board came



and eliminated Kurita in 167th place.
Nivel 14 : 1,000/2,000, 300 ante
We found Elias Jaajaa and Chris Karambinis locking horns in a large pot after a flop of



. Jaajaa had put in the most recent raise, to 44,500. Karambinis made the call. The turn was the

, and Karambinis checked. Jaajaa moved all in, and he had Karambinis covered. Karambinis shook his head and rechecked his cards.
"I'll show you if you show me," Jaajaa said after rocking back and forth in his seat.
Karambinis finally folded, turning over

and

one at a time. Jaajaa held up the

, showing his opponent that he'd made a good fold.
Nivel 14 : 1,000/2,000, 300 ante
Darren Elias raised to 5,200 from late position and was countered with an all in from the player in the hijack seat. Elias called and the hands were tabled.
Elias:



Hijack:


The race ended as quickly as it begun when the flop came



to give Elias quads. There was nothing for his opponent to do at this point except wait out the

turn and

river, so the dealer could call "payout".
Nivel 14 : 1,000/2,000, 300 ante
Nivel 14 : 1,000/2,000, 300 ante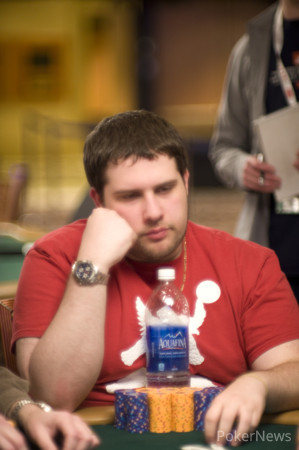 We found Alex Queen facing an all-in bet from an opponent after all the cards were out, with the board reading





. Queen dropped a tower of yellow chips in the middle after thinking for a bit.
"You've got me," his opponent said. Queen tabled


after his opponent showed

for a busted combo draw.
At a nearby table, Amit Makhija got it all in with


and held up against an opponent with


to double through.
Nivel 14 : 1,000/2,000, 300 ante
Got binked in the 2500. Hopping in the 5k
Follow @dansmithholla
Nivel 14 : 1,000/2,000, 300 ante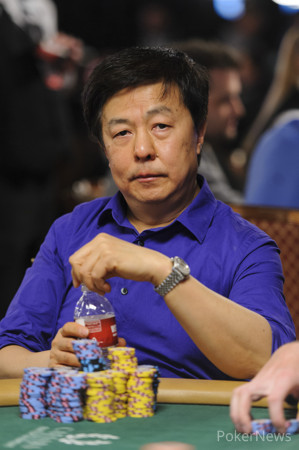 We observed the action starting with Robert Cheung check-calling the 15,000 bet of his opponent on the



flop with the pot already at roughly 25,000. Cheung checked the

turn and his opponent followed with an all in. Cheung called and he was not happy when the hands were tabled.
Cheung:



Opponent:


His opponent had the straight with outs to the flush and Cheung was drawing to a chop. As luck would have it, one of Cheung's outs came when the

river was dealt, giving both players the same hand. Needless to say
the river put a little bounce in Cheung's step.
Nivel 14 : 1,000/2,000, 300 ante
A player under the gun at Table 440 raised, and the button called him. Michael Kamran, who covered both, shipped all in from the big blind. The original raiser tanked for about two minutes before calling off, and the other player folded immediately.
Kamran:



Opponent:


The board ran out




, leaving the nines best.
Nivel: 15
Blinduri: 1,200/2,400
Ante: 400