And That, My Friend, is How You Play the Game
Nivel 6 : 100/200, 25 ante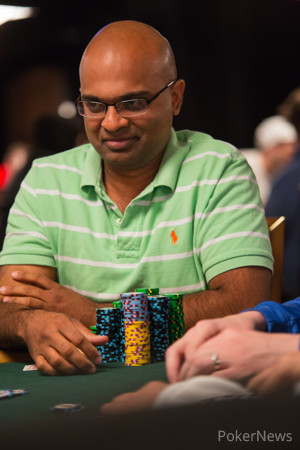 When we last saw Nithin Eapen, the native of Kerala, India was playing the "Millionaire Maker" event, alongside his countryman Jay Nair. The two had been randomly seated next to one another, and after a bit of small talk, Eapen and Nair discovered that they were from the same area of their homeland, spoke the same regional dialect, and knew the same people back home.
Today, Eapen was kind enough to stop us to offer a quick thank you for capturing his improbable meeting in print, and soon thereafter he rewarded us with the following gem of a hand.
The action was caught on the flop, with the board reading



and Eapen having checked the action to recent bracelet winner Jason Duval.
Duval responded to the sign of weakness with a standard feeler bet, putting 800 into the pot, and Eapen flatted to see the turn come

.
After another tap of the table by Eapen, Duval splashed out a bet of 1,725, and that's when the fireworks began a day early. Eapen appeared to be cowed by the aggression, looking back at his stack seemingly in fear, before staring over at Duval across the table.
"I have a piece of that, don't think you can just push me off," he said, still peering down apprehensively at his stack.
"So if you only have a piece, that means I can three-barrel the river and you fold, right?" answered Duval, his demeanor exuding confidence. "If you just have a small piece, why mess around?"
After appearing ready to release his hand a few times, Eapen suddenly announced himself all in, and Duval wasted no time in making the call with his


. Having turned a set, Duval had no doubt that his hand was good against Eapen's "piece" of the board, but he was shocked when he saw the

hit the table for the nut straight.
Before Duval could even process the bad news, or pray for the board to pair up, the dealer dropped the

on the river to give Eapen a superfluous flush. The gracious amateur offered Duval a handshake while the pot was pushed his way, but the Canadian pro was simply too shocked to notice, walking away from the scene of the wreckage to commiserate with his friends on the rail.