Wanna Bet?
Nivel 6 : 100/200, 25 ante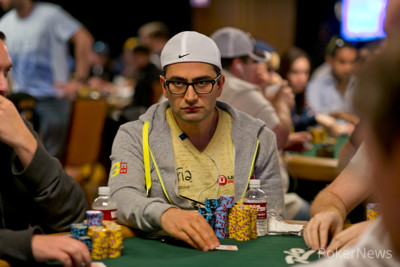 During our rounds through the tournament floor, random wisps of conversation are overheard on a continuous stream, from the banal exchange of personal information between strangers, to intense strategy discussion sessions, but Antonio Esfandiari's table is always a source for compelling table talk.
Today has proven to be no exception, as the former co-host of the prop betting show I Bet You was recently discussing a series of small wagers with his tablemates, including a particularly interesting proposition regarding the number of entrants to the Main Event who will be virgins. Not virgins to poker's premier tournament mind you, but... well, you get the idea.
After setting an over/under of 31, Esfandiari continued to calculate the odds of a 21-year old man or woman visiting Vegas without having consummated a carnal relationship.
While that wager has yet to be settled, "The Magician" has apparently been up to his old tricks, as he currently sits with a neatly stacked pile of $100 bills behind his chip stack. In addition to the Benjamins, Esfandiari has also claimed a few green $25 dollar chips from the suckers at the table, proving the old maxim that the gamble never ends for a true gambler.
Unfortunately for Esfandiari, the player who had been his betting partner was recently eliminated, after his

stab was called down by a pair of superior hands and no miracles appeared on board.
"Oh no...," said Esfandiari as the player's cards were tabled. "I'm gonna lose my fish."