Decep-Shin
Nivel 8 : 200/400, 50 ante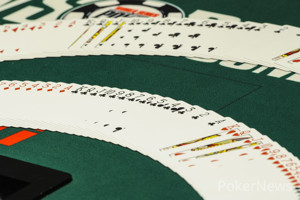 Every so often we pass by a table and see a sight that, frankly, doesn't make any sense. A recent hand involving Ken Shin and an unfortunate opponent fit that bill to a tee.
Shin's opponent had his


face up on the table, with the board reading


. Apparently, the player had bet out for 3,000 and the table folded around to give him the win. Except Shin still had a hand in play, a hand which had been concealed behind his chip stack and covered with two open palms.
The player tabled his queens thinking the pot was his, but Shin objected and showed the table that he had not yet folded. After a floorperson determined that Shin's actions were not deliberately deceptive, no penalties were issued and the hand continued.
Shin applied the pressure with a raise to 6,000, a move which prompted his opponent to stand up and contemplate the bind he had put himself in. With his hands on his head, the player tried his best to determine whether or not Shin was raising with the goods, or if he was a thief on the prowl for an easy score.
Eventually, after a two-minute long dive into the tank, the player finally relented and mucked his face-up queens. With the heist completed, Shin turned the needle just a bit, tabling his


for a plunder with pure air.