Final Table Interview: Justin Zaki
Nivel 28 : 30,000/60,000, 10,000 ante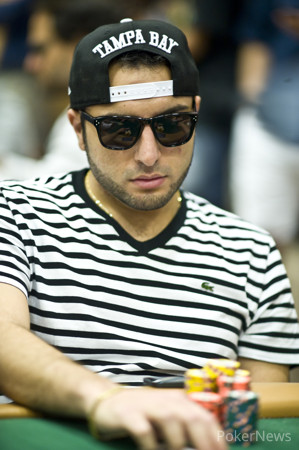 With just 10 players remaining in Event #58, Justin Zaki probably has the most experience this deep in a live tournament. Zaki has over $800,000 in lifetime earnings and has made final tables at both the WSOP and the World Poker Tour.
The largest cash of his tournament career also happens to be his best run. In 2011, Zaki snagged a third place finish in the WPT Championship Event at the Seminole Hard Rock Showdown, securing $415,680 in cash. Zaki also placed seventh in a $1,500 buy-in event of the 2010 WSOP for over $78,000, and more recently took ninth place in the $3,500 Main Event of the 2012 WPT Jacksonville Fall series to add $24,422 to his roll.
During the most recent break we took the opportunity to talk with Zaki, who was sitting seventh in chips at the time of the interview.
How do you stay on top of your game with so much tough competition in no-limit Hold'em these days?
I'm friends with a lot of the best young players so I talk tons of hands during breaks and after tournaments. I put in so much volume traveling between the circuits that I've gained so much experience playing live tournaments. I think I'm getting better and better through each tournament that I know how to handle a lot of situations or have the capability to make good decisions based on past experiences. So that and discussing hands with other players has helped to keep me in check.
Should the WSOP keep the Little One for One Drop and raise the buy in or keep it the same?
I think the buy in was just perfect. $1K events attract all kind of players. For instance, were down to the last players in this event and a majority are amateurs, which is great for the game. If the buy-in were changed to a higher dollar amount then it wouldn't attract as high of a turnout.
How would you compare the field in this event to other $1,000 or $1,500 events?
Honestly it is pretty similar. There is a solid mix of pros and amateurs with probably more amateurs than pros. Maybe this event didn't attract as many pros because of bigger events scheduled around the same time, but for the most part it is relatively the same. I will say it is nice to see more amateurs in the final counts compared to pros because it really helps with the image of poker. It shows that it is accessible to all player types.
So against a lighter field, in terms of lack of bigger names, do you up the aggression and try to exploit bad play?
It is tough with this tournament structure. The average stack is around 25-big blinds so it is hard to play optimally because you can play well and still get unlucky. You really want to pick your spots to give yourself the best chance to make it into the final table. Making it to the money is great but you want the bigger fish. I'm not trying to get in any pre-flop all-in situations because I can still chip up without seeing any flops or turns. So picking your spot is key because as they will stack off eventually.
My table right now is unbelievable. If I was ever going to be deep in a WSOP this is the dream table to have. I wish the structure was a little better but I'll take it.
You have 12 WSOP cashes, 13 including this event, but have yet to clinch a bracelet. What challenges have you faced that have kept you from a winning score?
I've been getting deep in a lot of tournaments. In the end you just have to run good and win flips. Unfortunately, it just has to go your way. You can make good folds, good calls, and play smart, but still fall short of a win if the cards don't go your way. In past tournaments, sure I run deep but then it just doesn't go my way beyond that. I've been pretty positive and eventually it will come. This tournament would be a nice one to win.
Aside from winning a WSOP bracelet, what other poker accomplishments do you still wish to achieve?
I would love to win a WPT title. I got really close two years ago. That is what propelled me. Ever since then I've been chasing a WPT title.
Would you rather score a large cash prize, the biggest of your career, or win a title for less money?
If I had the option between winning a $1 million for first or getting second place for $1.5 million I would choose the win and get $500,000 less. It's about the trophies, right? Isn't that why we play poker, to win? And I have yet to win. That's my priority.