Turner, Tepen Squeeze Into Cash; Seiver Big Leader

Nivel 14 : 2,000/4,000, 0 ante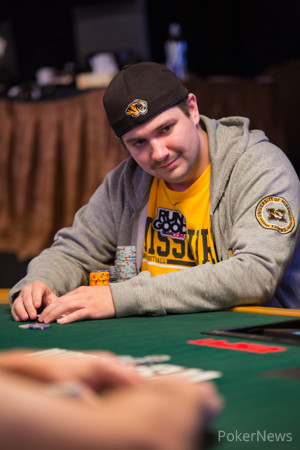 The bubble having burst, they played one additional hand before the dinner break, and there ended up being two eliminations to reduce the field to 28.
It started with Ryan Tepen calling all in with the couple of thousand chips he had left from under the gun, then it folded to David "ODB" Baker who raised from the button.
The action was on new chip leader Scott Seiver in the small blind who three-bet, leaving it up to Jon Turner to decide what to do from the small blind. Turner had been crippled earlier by Seiver in a big hand that saw the latter make a wheel to claim most of Turner's stack, but "PearlJammer" had managed to squeak into the cash nonetheless.
The others had a lot of fun watching Turner's exasperation over whether or not to save his last 800 chips or put it at risk against three players with a hand he admitted was not worth playing. Finally he called, and after Seiver drew one card, Turner drew four.
"First time all tournament I've drawn four," he laughed.
Tepen then took three and Baker two, and after Seiver led with a bet, Baker called. The next round saw Seiver standing pat, Turner and Tepen take two, and Baker one. Again Baker called Seiver's bet. The third round then went identically, with the all-in players both again taking two, Baker again drawing one, and Baker once more calling Seiver.
"Number three," said Seiver, showing





. Baker said he had an eight-seven and mucked. Turner then showed three of his cards —



— then the last two he drew —


. Tepen meanwhile examined his final five and and when he saw they were beaten he mucked.
Afterwards, Turner said he'd started with




.
Tepen takes 30th and Turner 29th, the first players to cash in Event #59. Meanwhile, Seiver goes to break with a big chip lead with over 193,000.