Event #6: $1,500 "Millionaire Maker" No-Limit Hold'em
Zilele: 1a
Nivel: 13
Blinduri: 800/1,600
Ante: 200
Nivel: 12
Blinduri: 600/1,200
Ante: 200
Nivel: 11
Blinduri: 500/1,000
Ante: 100
Nivel: 10
Blinduri: 400/800
Ante: 100
Nivel: 9
Blinduri: 300/600
Ante: 75
Event #6: $1,500 "Millionaire Maker" No-Limit Hold'em
Ziua 1a terminat
Nivel 8 : 200/400, 50 ante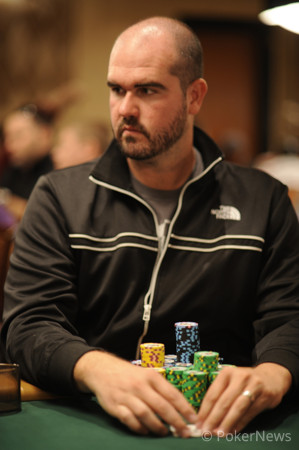 Day 1a of Event #6: $1,500 "Millionaire Maker" No-Limit Hold'em has come to a close after the first eight levels of play have wrapped up. A massive field of 3,713 players came out for the first of two starting flights, and former World Series of Poker gold bracelet winner Ryan Welch is contending for the chip lead. He bagged up 68,450, although we'll have to wait for the official counts from the WSOP before verifying if he topped this flight or not. There is also an entire batch of players in the Day 1b flight, so someone could emerge with plenty more chips later tonight.
The story of the day wasn't so much the poker being played, but rather the insanely large turnout for the event. All day long the registration lines were stretched far down the hallways, but seemed to move fairly fast. For several hours of the day, the event had players in all three rooms inside the Rio. This field has already crushed the record previously held for the largest $1,500 no-limit hold'em event at the WSOP, and it stands to become one of the largest poker tournaments of all time. Despite the unique payout structure that will be used for this event, the attraction of a guaranteed $1 million for first place had players storming through the doors.
Some of the notables advancing from Day 1a were gold bracelet winners John Monnette, Tristan Wade, Timothy Adams and Jake Cody. Micah Raskin, Kenny Nguyen, Dennis Phillips, Dani Stern and Rupert Elder were amongst those to advance as well.
862 from the 3,713 entered made it thorugh to day 2 but right now we're going to kick things over to PokerNews' Day 1b coverage. It's been a fun, record-setting day, but it's not over yet!
Nivel 8 : 200/400, 50 ante
Jucător
Fise
Progres

Harrison Beach

76,875

Vladimir Geshkenbein

70,000

Ryan Welch

68,450

Kenny Nguyen

67,000

67,000

Joe Rutledge

63,925

Derek Chisholm

62,775

Jeremiah Vinsant

60,625

Blake Cahail

60,475

Walter Moorhead

57,900

Alex Findlay

57,725

Cody Cooley

56,300

Dm Delvecchio

56,125

Alex Muscarella

56,000

Charles Blumenthal

55,850

Stephanie Dao

55,250

Deepak Nandakumar

54,975

Kevin Wright

54,725

Michael Zuckerman

54,700

John Monnette

54,600

4,600

Champie Douglas

54,575

Kenneth Douglas

54,300

Michael Bennington

54,125

David Laski

51,700

Niel Mittelman

51,225

Craig Schauer

49,775
Nivel 8 : 200/400, 50 ante
The tournament staff has just announced that the players will be playing out three more hands before bagging and tagging.
Nivel 8 : 200/400, 50 ante
Faraz Jaka fired a bet of 850 on the paired flop of



. His opponent, Mike Dentale, made the call in position. From there, the dealer added the

to the turn, putting trip deuces on board. After Jaka checked, Dentale bet 1,300. Jaka took some time, then folded, and Dentale won the pot.