Wiese Bet Forces Bleznick Fold

Nivel 28 : 40,000/80,000, 0 ante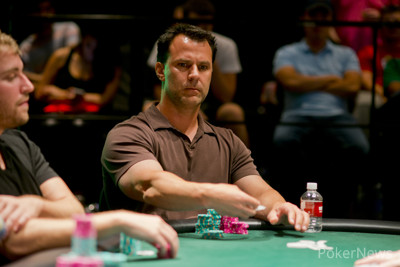 Hand #118: James Wiese (middle position) and Daniel Alaei (small blind) limped, Jared Bleznick checked (big blind), and all three subquently checked the



flop. They also checked the

turn, and it appeared the hand would likely end without much fanfare.
But when the river brought the
and Alaei checked, Bleznick promptly bet the pot — 240,000 — then Wiese didn't waste much time at all before reraising to 960,000, only leaving himself about 400,000 behind.
Alaei folded instantly, and Bleznick began talking out loud as he narrated his thinking process.
"The thing is… you bluff a lot," he said. "You're capable of a lot," he added, then asked the dealer to pull the chips in to see it was 720,000 for him to call.
Finally he let his hand go, continuing to talk while Wiese just chewed his gum wordlessly and dragged the chips.