St. Pierre Forgets to Check
Nivel 2 : 100/200, 0 ante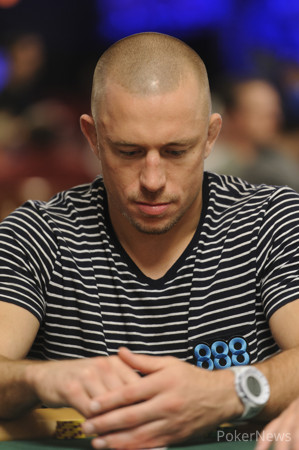 There's no doubt that Georges St. Pierre is one of the world's greatest MMA fighters (he is the current Welterweight Champion after all), but when it comes to poker, he's still got a few things to figure out as evidenced by the following hand.
We picked up the action with 1,400 in the pot and a flop of



. St. Pierre was first to act in the small blind and bet the minimum of 200. His opponents in middle position and on the button called and then the dealer burned and turned the

.
St. Pierre was first to act, but he neither checked nor bet. Instead he put one hand on his cards and jabbed them to the dealer, who hesitantly grabbed them and pulled them into the muck. "You can check," a player at the table informed St. Pierre, who seemed to know he had just made an amateur error.
Despite that small mental lapse, St. Pierre is actually doing decent and is up a bit from the starting stack.
Jucător
Fise
Progres

Georges St. Pierre

31,200

2,200