Will Kenny Quit?
Nivel 4 : 150/300, 25 ante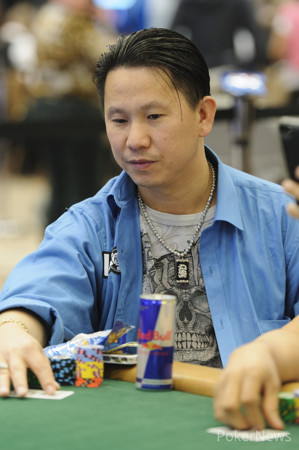 Earlier in the day Kenny Nguyen explained to his table that he would be quitting poker if he didn't cash in this year's Main Event. "I call," one of the players at his table said in response.
But it doesn't look as if Nguyen will have to quit if he keeps doing what he's doing here today.
We caught Nguyen on the turn of board reading




. The player who was in the big blind had made a bet of about 4,000 and Nguyen called, creating a pot of just about 17,000.
The two took to the river which fell the

. On the river, the player in the big blind thought for about a minute before finally checking. With action on Nguyen, he threw in three orange T5,000 chips, which was enough to put his opponent all in. After about 3 minutes in the tank, the player folded allowing Nguyen to take the pot. As he was mucking though, the player showed the
.
"I have to show you a pair now," Nguyen said showing the

for a pair of eights.
"I had aces," the player said.
"If you had aces, you made a bad fold," Nguyen said laughing.