Ten-Deuey Still Good For Brunson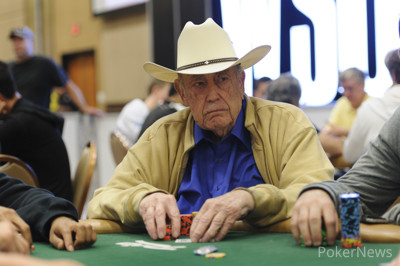 Doyle Brunson opened the pot with a raise to 1,900 from middle position. Only the player in the big blind called.
The flop came out



and both players checked. "Beware of that one buddy," Brunson said pointing at the flop in reference to the fact that he has won two Main Events with


.
"Isn't that a famous hand or something?" someone at the table asked.
The turn was the

and the big blind checked to Brunson again. Brunson bet and got a snap fold out of his opponent. Brunson only flashed the

but his boat was good enough to take down the pot.
"Just say he had ten-deuce for the sake of the blog," Brunson's opponent said while laughing.
Jucător
Fise
Progres

Doyle Brunson

165,000

4,000