Fortunate Turn Helps Merson Oust Harig Again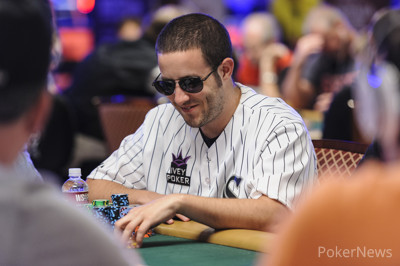 A year ago Wilfried Harig made a deep run to Day 7 of the WSOP Main Event, ultimately falling in 15th place in a hand versus the eventual champion Greg Merson after committing the last of his stack with


versus Merson's


, then watching as a king fell on the flop then a jack on the turn to give Merson the better hand.
Harig just now found himself engaged in battle with Merson once again, and unfortunately for the German player the results were uncannily similar.
The hand began with a middle position raise to 1,800 followed by a call from Olivier Busquet playing from one seat over. Harig called as well from the hijack, then Merson reraised to 7,100 from the cutoff seat and it folded all of the way back around to Harig who thought a few moments, then called.
The flop came


and Harig checked. Merson tossed out a bet of 10,700, then after a half-minute Harig check-raised to 25,000. Merson didn't waste too much time before putting out chips and declaring an all-in shove, and Harig called all in even more quickly.
Harig:



Merson:


Merson had flopped top two pair, but Harig had a set of eights and a big advantage with two cards to come. Alas for Harig, the turn brought the
. Much like a year ago, fourth street had been cruel to Harig, in this case giving Merson the better full house. In fact, Harig was already drawing dead as the

meaninglessly fell on the river.
Harig shook Merson's hand and departed, and Dan Fleyshman called over from across the table.
"Kind of felt like it was coming?" said Fleyshman to Merson, who grinned in response as he stacked the chips.
Perhaps after what happened on Day 7 in 2012, Merson did. Meanwhile, as the next hand was dealt the table spoke of what had just happened as well as what happened between the two players a year ago.
A little later Merson tweeted about the hand, again recalling the earlier one with Harig:
Just got super lucky against harig. Doubt he could run worse vs me lifetime. Good sport though, somehow was able to shake my hand after :/
Follow @Gregy20723