Welcome To the 2013 WSOP Main Event!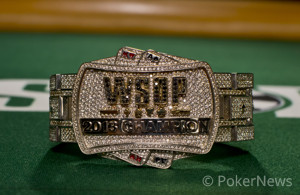 Welcome to poker's Christmas morning, as today marks the start of the greatest tournament on the face of the planet — the World Series of Poker Main Event!
Every year, thousands of poker players take to the felt inside with dreams of becoming the next great champion of this event, but there can only be one. Along the way, many dreams will be shattered, hopes dashed and bankrolls crushed, but heading into Day 1, every single person entering the field is bursting with excitement while doing best to maintain the butterflies in their stomachs.
Last year, Greg Merson defeated a field of 6,598 players en route to winning the $8,531,853 top prize. He'll be in action on Day 1a and eyeing the immaculate feat of going back to back in such a difficult and grueling event.
Over the course of the next 10 days, all eyes in the poker world will be fixed solely on this one event — the Main Event — and it is PokerNews' pleasure once again to be the ones providing the official live updates. The cards will be in the air shortly, with things kicking off at 12 p.m. See you shortly!