What Are the Odds?
Nivel 1 : 50/100, 0 ante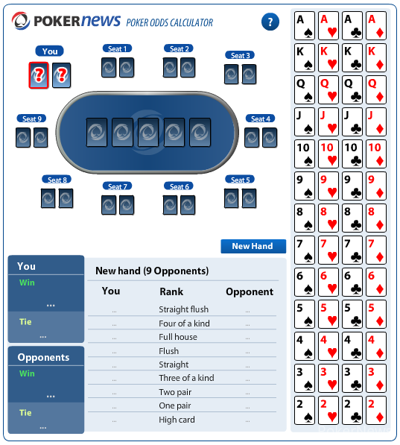 While the field may be larger here on Day 1b, it's going to be very hard to find a better hand than what was produced yesterday at Table 443 in the Purple Section of the Amazon Room. For those wondering what we're talking about, you can read about the five-way all-in clash by clicking here. The hand was won by Mac Sohrabi, with Yucel Eminoglu scooping a sizable side pot.
There has been much talk about the hand via social media and at various tables throughout the field today. Most of the chatter is about the player who called all in after raising from under the gun holding the


to put his healthy 40,000-chip stack at risk. Checking the PokerNews Odds Calculator, it appears the player wasn't in that bad of shape given all of the hands. Let's take a look.


: 19%


: 7%



: 35%



: 21%



: 17%
We all know everyone loves nice, deceptive suited connectors, as they can often win you very large pots in the right instances, but in this case the hand failed to work out for the player who held the


. Even so, a 19% chance of winning the hand in a big, five-way pot doesn't seem like a bad shot at a ton of chips, and we all know there's nothing wrong with a bit of gamble in a tournament as it can be just the thing to propel you to a deep run.
The way the hand went down, it's highly in doubt that we will witness another one that reaches the epic proportions of this one, but we'll be keeping our eyes wide open. In the meantime, enjoy this hand history from our archives.