Ivey, Negreanu, Hellmuth and Mercier Among Those Here for Day 1c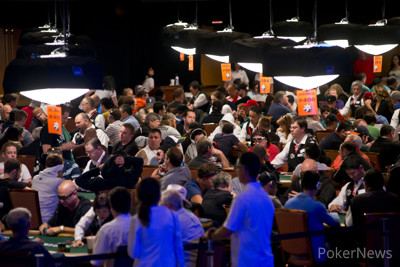 Today marks the final starting flight of the 2013 World Series of Poker Main Event, and already the record for the largest one-day Main Event field in history (3,418 players) looks to be in jeopardy. Earlier today, Ty Stewart of the WSOP tweeted that there were already 3,000 players registered for the third and final starting day, and this was three and a half hours prior to play starting and eight hours before registration closes.
On each of the first two starting days, Day 1a and Day 1b, Evan Panesis (190,975) and Clement Tripodi (207,050) bagged up the most chips, respectively. Day 1c usually lends itself to the overall chip leader as they are so many more chips in play, don't be surprised if someone emerges with over 250,000 to take the reigns heading into the Day 2s.
You can catch up on Day 1a by reading the recap here, or do the same for Day 1b here.
As always, Day 1c will have the largest concentration of pros, celebrities and notable faces in the field, so expect plenty of excitement all day long. Some of those who will be in the field today are Phil Ivey, Daniel Negreanu, Phil Hellmuth and Jason Mercier, but there will just be so many that you definitely don't want to miss it.
Play is slated to begin like normal at 12 p.m. Las Vegas time, so be sure to tune right back in then. In the meantime, check out the PokerNews July 8 update from our very own Lynn Gilmartin.