Interview: Nightclub Owner Ami Alibay Eyes Main Event Final Table
Nivel 20 : 6,000/12,000, 2,000 ante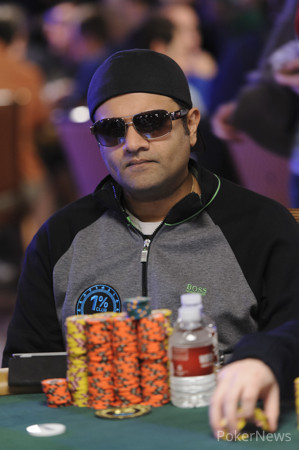 Ami Alibay has been among the leaders for much of Day 4 in the World Series of Poker Main Event. The nightclub and restaurant owner from Montreal is currently sitting in the top 10 in chips with 1.7 million.
Alibay might be an amateur, but he already has made two cashes this summer, including an eighth-place result in Event #4: $1,500 No-Limit Hold'em Six-Handed. He also has high-roller experience after playing $111,111 buy-in tournament for the One Drop Foundation. He contributed 1% to the foundation and got to play against some of the world's toughest competitors, but ultimately fell short of the money. Now, he has a chance to make waves in poker's most prestigious event.
We spoke with Alibay about playing poker as a hobby and facing some of the best players in the world in the Main Event.
PokerNews: You played in the $111,111 buy-in One Drop event. How does that event compare to the Main Event?
Alibay: The $100K had the best players in the world. It was the toughest tournament that I have ever played. I also played the $25K buy-in tournament at the Bellagio and I think that had the same range of players. But in the $100K I really got outplayed so many times. In the Main Event everyone has a dream so you can have maybe three to five amateur players on the table. In the first couple of days my table draws were so good because I didn't have anyone to push me around. Actually, I had Vanessa Selbst on my table in the first day. I was trying to avoid her but knew I had to play hands against her because if you hit a hand you can maximize your value.
How did the first two days compare to Day 3 and now Day 4?
People are getting tighter. Especially when the money bubble was near, the play was really tight on my table. You didn't see any major hands at all. It's now getting really serious. It's the Super Bowl of poker so rightfully so.
You have only 10 cashes listed on Hendon Mob Database. What is your poker story?
I started to play poker at René Angélil's charity poker tournament a few years ago. He inspired me to play poker. I came to Las Vegas once to play in the World Poker Tournament with him and I really liked the competition. I'm not 20 years old anymore so I can't play football or hockey like before, but in poker age doesn't matter. I like to compete so poker was good. Through the years I have improved. I was really bad when I first started playing but I think I am in a good position now to have a good run.
Is poker just a hobby then, or would you like to turn it into a profession?
No, poker will never be a profession for me. I own two nightclubs and one fine-dining restaurant in Montreal. I will keep poker as a hobby. I don't wait for the money to come in to pay my bills and eat so poker is just fun for me. Even if I bust in the Main Event, it has been a lot of fun.
Can you talk about your experience with the Main Event over the last two years and this year?
The last two years was so terrible. I was chasing draws like crazy and playing the Main Event like a cash game. I learned a lot since then. I watched poker on ESPN and learned a lot from what the commentators had to say. Tony Dunst helped with his comments. There were a lot of hands played on the WPT that were aired on television and that helped me a lot. There were a lot of situations that I could have played differently and I learned through listening to Dunst. He made me think of how to play hands differently.
You are on the feature table with Greg Mueller and Carlos Mortensen. Are you familiar with some of the big names in the poker industry?
I met Greg just yesterday and I just met Carlos today. Before this, I didn't know who either player was but now I am aware and respect them as players. Actually, Carlos had 35,000 in chips. I played a hand against him and he doubled up because he cracked me on the river. I think that helped a lot because now he has about one million now. I guess you have to be lucky to still be playing this late into the tournament.
Has there been any kind of intimidation playing against some of the pros?
I've played with Antonio Esfandiari and Vanessa Rousso. People might be surprised but Selbst was one of the toughest players I've ever played. I was really impressed by the way she played on Day 1. She is dangerous. A truly great player and I hope people know that.
What were your expectations before the Main Event, and have they changed?
To win a bracelet; isn't that everyone's expectations? Let me tell you a story. I came to Las Vegas early in the summer and played Event #4 ($1,500 No-Limit Hold'em Six-Handed). We were 10-handed and maybe two people away from the final table. I was second in chips and Joe Cada was the chip leader. My friend, Charles Sylvestre won the bracelet in Event #3 ($1,000 N-Limit Hold'em Re-Entry) so I was called to go take a picture. I left the table for just four hands, took the picture and went back to my table. When I sat down, I doubled up the short-stack on the very first hand. Then doubled him again soon after before he knocked me out. I bubbled the final table in 8th place. After that I said there was no way I will lose the Main Event. Of course I can't control the cards but I am doing my best to make it to the final table.