Interview with JC Tran: "It's All About Image"
Nivel 34 : 150,000/300,000, 50,000 ante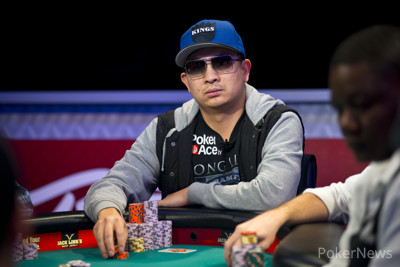 JC Tran may have one of the greatest comeback stories of this summer's WSOP. On Day 3, he dropped down to a mere 13,000 in chips — less than six big blinds — with little hope of advancing to the next day, much less making it to the final table.
Then, just one level later, he ran up his stack to around 162,000 and now sits second in chips on Day 7, well on his way to making the final table if his run continues.
We spoke to Tran about taking a break from the poker grind and focusing on fatherhood, his hero call against Fabian Ortiz, and his near bustout on Day 3.
PokerNews: How have you been able to balance poker with family life?
Tran: It's been really, really tough. My wife has been absolutely amazing. She's pregnant at the moment so her body is exhausted. Plus we have a two year old so things can get pretty hectic. She even wakes up to make me breakfast, prepare my coffee, drop me off, and meet me on dinner break. Right now she's not feeling well but still trying to do things for me. I told her right now just rest and relax. Once this is over, it will be all family time for a long time. I might make one stop for that big $10 million guarantee (in Florida) but other than that I'm not going to Asia, not going to Europe, nothing. That will be it.
So are you calling your retirement from poker?
I'm not quite saying retirement but I am calling it a big, big, long break. My family and I deserve it. We've been working so hard.
You made a great river call against Ortiz with only second pair against his ace-high bluff. What was your thought process on that hand?
I played with him quite a bit today. I wasn't too sure at first but when I got a good look at him, there was something about it. Something told me I had the best hand. I'm not going to say what but I picked up on something and I had to trust it. This is the WSOP. If I don't trust it then why even be here. I recognized it, I trusted it, and went with it. Good thing it was correct. That was probably one of the biggest calls I've made in this tournament.
On Day 3, you dropped down to 14,000 — less than six big blinds. What were you feeling at that point?
I was down to 12,500 to be exact at 1,000/2,000 blinds. I felt like, "Wow, is this how my World Series is going to end?" I told myself just don't give up. Fight. You can get your money in. there is a decent chance to double up and from there get a couple of double ups and be back to a good stack. What brought me back was king-jack and I told myself, "look it happened and it could happen again; so be ready." And you know what, it sure did.
Then one level later you jumped back up to 162,000. What helped you get through that rough patch mentally?
When I was losing pots and folding, people saw defeat. It's natural. But I figured if they see me not giving up then there will be some kind of concern for them. When I started to rebuild my stack, it was reflecting confidence. That got some respect. Obviously picking up a few hands here and there helped too. When I got back up to over 100,000 then I started playing more hands. At that point people started folding to me. It's all about image.