Are You Ready for Another Big One?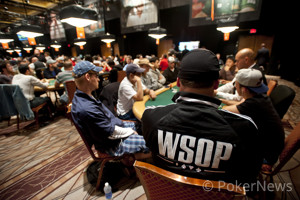 There's more than plenty of No-Limit Hold'em to be played this summer. Yesterday we had the inaugural "Millionaire Maker" tournament which broke all records. A lot of people started but only some of them made it through to day 2. All other players can give it a go again today, as we have a $1,000 tournament starting at 12:00.
In about an hour we'll start dealing cards again and PokerNews.com will bring you coverage all day. Will we see a Royal Flush again like we did yesterday, will we see quads beat quads again? Check back in an hour and follow our reporting from the first card being pitched till the last chip goes into the bag.
We'll be playing 11 sixty minute levels today, with a 20 minute break after every two levels. The dinner break will give the players 90 minutes to find a good food option and will occur after level 6.