Event #8: $2,500 Eight-Game Mix
Zilele: 3
Dinner time is over and the four remaining players have taken their seats.
Players are now on a 60-minute dinner break.
Nivel 24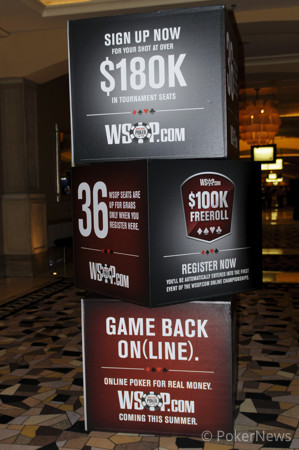 The buzz inside the walls of the Rio extends beyond just the tournaments on the 2013 World Series of Poker schedule. Online poker in Nevada is a very, very hot topic right now, and WSOP.com is making a lot of noise.
While the site has yet to launch, you can head to the Lambada Room of the Rio or look for one of the beautiful and friendly WSOP.com ladies walking the hallways to sign up for a free, personal WSOP.com online poker account. This is a great way to get a jump on the site's registration, and plenty of people have already taken this opportunity.
What's more is that the WSOP will be hosting daily raffles for everyone that has taken the time to register for WSOP.com at the Rio. What can you win? Plenty of fantastic prizes including 36 WSOP seats!
Players 21 years of age and older who sign up for a WSOP.com account will automatically be entered into the "36-Seat Giveaway" where a randomly-selected winner will win a seat into the next day's first WSOP gold bracelet event. One of the events eligible in this promotion is the $111,111 One Drop High Roller No-Limit Hold'em tournament that is expected to feature a $10,000,000 prize pool and allow you to play poker with the biggest names in the game. In total, $182,333 in WSOP seats, including a seat to the WSOP Main Event, are being given away during this one-of-a-kind WSOP.com promotion.
In addition to the 36-Seat Giveaway, a "Hot Seat" promotion will allow any player who signs up for a WSOP.com online account and wears their WSOP.com patch on their chest at the table while playing an event to be randomly selected to receive 500 bonus dollars deposited directly into their WSOP.com online account once the site has received all regulatory approvals and launches.
With 62 WSOP gold bracelet events and three winners promised for the Main Event, this promotion includes $32,000 worth of value to those participating.
Pot-Limit Omaha
After a flop of



, Greg Mueller checked to Steven Wolansky on the button. Wolansky bet 60,000, and Mueller called. The turn was the
, and both players checked. They again checked the

river.
Wolansky announced a straight, and tabled




. Mueller mucked.
Omaha Eight-or-Better
The board read



and Eric Crain and Michael Malm were heads up in the hand. Malm came out with a bet and Crain called. The

rivered and Malm bet once more. Crain called but mucked his hand after Malm fanned




for the scoop.
Two hands later, Steven Wolansky opened with a raise from the small blind. Crain three-bet from the big and Wolansky called. The flop came



and both player checked.
Fourth street saw a second jack fall with the

. Wolansky fired a bet and Crain stuck around. The

hit the river and Wolansky bet once more. Crain called.
Wolansky tabled




for quad jacks. Crain stared with his mouth agape at Wolansky's hand and then quickly mucked his own.
Stud
Michael Malm came out with a completion with a

, and Greg Mueller raised with

up. Malm called, and Mueller bet every street until seventh. Mueller checked seventh, and Malm bet. Mueller called.
Malm:



/





Mueller:

/




Mueller's nines were good, and he raked the pot.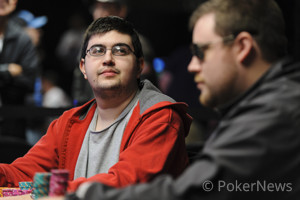 Stud
Steven Wolansky:


/




/

Eric Crain:


/



/

Steven Wolansky completed and Eric Crain raised from the next seat. Wolansky called and the two were heads up to fourth street.
Crain led out on fourth and Wolansky called. Crain slowed down on fifth with a check but called after Wolansky bet. Crain check-called once again sixth and yet again on seventh.
Wolansky fanned



for a spade flush. Crain mucked his hand and Wolansky picked up the pot. Wolansky is now sitting on 1.29 million in chips while Crain has fallen to 650,000.
No-Limit Hold'em
Action folded to Eric Crain in the small blind, who completed the bet. Greg Mueller checked his option.
The flop came


, and both players checked. An
came on the turn, and Crain bet 10,000. Mueller made the call. The river brought another eight, this time the

, and Crain fired out 35,000. Mueller made it 125,000, and Crain called. Mueller tabled


, napkins that had become trips on the final two streets.
Nivel: 24
Triple Draw 2-7 - Hold'em - Omaha 8 10,000 20,000 20,000-40,000
Razz - Stud - Stud 8 5,000 5,000 20,000 20,000-40,000
No-Limit Hold'em - PLO (No Ante) 3,000 5,000 10,000