Event #8: $2,500 Eight-Game Mix
Zilele: 3
Event #8: $2,500 Eight-Game Mix
Ziua 3 început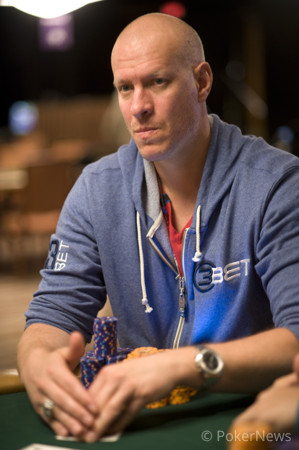 Welcome back to our coverage of the 2013 World Series of Poker! We're live from the Amazon Room in the Rio for Day 3 of Event #8: $2,500 Eight-Game Mix. Yesterday saw 192 players return to the felt and they played down through the money bubble of the top forty and beyond. At the end of the night, 19 players bagged up with Marco Johnson leading the field.
The field was stacked heading into Day 2 and that lead to several big name players busting without making the money. The likes of David Williams, Vanessa Selbst, Phil Ivey, Greg Raymer, Scott Fischman, Todd Brunson, Ashkan Razavi, Daniel Idema, and Jeff Lisandro all saw the rail before the bubble popped.
After the money hit, players began falling at a more rapid rate. Some of the notable names to cash in this field include Mohsin Charania, John Cernuto, Andy Bloch, Blair Rodman, Joe Cassidy, Andrey Zaichenko, and Christopher Vitch.
While all of those players fell at the hands of their opponents, the field still remains stacked heading into the final day. Notable names returning for the final day include Chris Tryba (287,800), Dario Alioto (216,400), last year's runner-up Greg Mueller (258,200), Robert Mizrachi (157,000), Randy Ohel (120,600), Eric Crain (117,700), Josh Arieh (101,600), Chris Reslock (72,000), and Mike Wattel (66,600).
Top 10 Chip Counts
| Place | Player | Chips |
| --- | --- | --- |
| 1 | Marco Johnson | 354,300 |
| 2 | Steven Wolansky | 321,400 |
| 3 | Chris Tryba | 287,800 |
| 4 | Dario Alioto | 261,400 |
| 5 | Greg Mueller | 258,200 |
| 6 | Michael Hurey | 213,300 |
| 7 | Robert Mizrachi | 157,000 |
| 8 | Michael Malm | 135,100 |
| 9 | Benjamin Pollak | 133,000 |
| 10 | Randy Ohel | 120,600 |
We will be live from the Amazon Room for the entirety of the day providing live updates from the floor. Be sure to stay tuned on the quest to crown a WSOP bracelet winner here on PokerNews!
Nivel: 19
Triple Draw 2-7 - Hold'em - Omaha 8 3,000 6,000 6,000-12,000
Razz - Stud - Stud 8 1,500 2,000 6,000 6,000-12,000
No-Limit Hold'em - PLO (No Ante) 700 1,500 3,000
The final 19 players have taken their seats here in the Tan section of the Amazon Room and cards are in the air!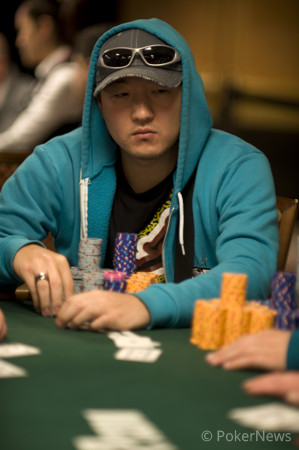 Stud Eight or Better
Eric Crain and Mike Kim put in all the money on the first card, and short-stacked Kim was at risk.
Crain:







Kim:






Kim couldn't top Crain's aces up, and the former chipleader hit the rail in 19th.
Pot-Limit Omaha
We arrived at the table to find Michael Malm all in and at risk before the flop against Greg Mueller.
The board ran out




and Malm was able to make tens full of eights. Malm's all in was for 110,100 and with this hit Mueller is now down to abotu 170,000.
Stud Eight-or-Better
Chris Wolfe was all in and at risk against Steven Wolansky simultaneously to the previous hand with Michael Malm and Greg Mueller.
Wolfe was unable to make a hand in Stud Eight-or-Better and was eliminated in unknown action at the hands of Wolansky.
Limit Hold'em
We caught up with the action to see Michael Malm, Dario Alioto, and Mike Wattel take in a flop of



. Malm and Alioto checked and Wattel fired out. Malm called and Alioto raised. Wattel made it three bets and Malm got out of the way. Alioto stuck around.
The

turned and Alioto checked. Wattel moved all in for his last 5,100 and Alioto called.
Wattel:


Alioto:


Wattel was ahead with pocket aces and stayed that way when the

finished off the board. He now has about 110,000 to Alioto's 215,000.
Josh Arieh mockingly called the clock on himself, then another player obliged him.
"I'm admittedly stalling," Arieh told the tournament director in an attempt to get the tournament to be played hand for hand on the bubble of a redraw and money jump. The director offered him only a penalty in response.
2-7 Triple Draw
Eric Crain opened before the draw and Septimiu Popescu three-bet. Marco Johnson called and Crain made it four bets. Both players called. Popescu took one, Johnson drew two, and Crain took one.
Popescu led out and Johnson called. Crain raised and Popescu three-bet it right back. Johnson called again and Crain capped it. Both players called.
Both Popescu and Crain stood pat while Johnson took two once more. Septimu bet his last 8,500 and was all in. Johnson called and Crain raised when it came to him. Johnson called once more and drew one card on the draw. Crain stood pat.
Johnson checked and Crain fired a bet. Johnson folded and Crain fanned





. Popescu shook his head, flashed an

low and mucked his hand. His elimination has prompted a total redraw to the final two tables.