Kostritsyn Takes a Break from the Online Grind
Nivel 2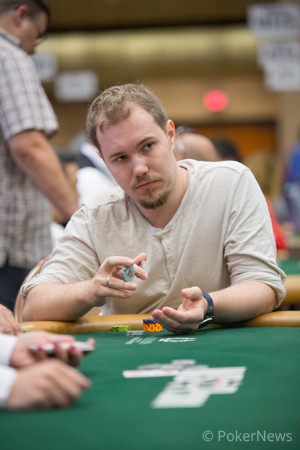 2-7 Triple Draw
It's been awhile since we've seen Russian pro Alexander Kostritsyn at the World Series of Poker. Between 2008-2011 he racked up 14 WSOP cashes for $1,030,059, but last year he was nowhere to be found. We know that Kostritsyn started a family not too long ago, and of course he is one of online poker's premiere players at the nosebleeds. Fortunately for the railbirds, Kostritsyn has taken a break from the online grind and is back in Vegas to chase WSOP gold.
We caught Kostritsyn in a recent 2-7 Triple Draw hand when he raised to 200 from the button and then called when Mike Leah three-bet to 400. Both players drew one and Kostritsyn called a bet from Leah.
Leah drew another one while Kostritsyn stood pat. Leah proceeded to check-call a bet before drawing one final time. Kostritsyn stood pat.
Leah squeezed out his card and then took the initiative by betting. Kostritsyn seemed to know he was in trouble but made the call nonetheless. Leah tabled




for an eight-six low and it was good as Kostritsyn sent his cards to the muck.