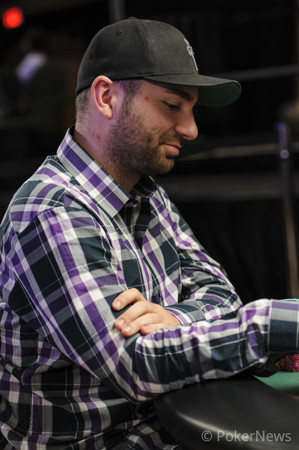 No-Limit Hold'em
Steven Wolansky had the button. He popped it up to 65,000 and Michael Malm defended his big blind.
The flop brought



and Malm checked to the raiser. Wolansky fired 75,000 and Malm called. The

hit the turn and Malm checked once more and called after Wolansky slid out 160,000. The

finished off the board. Malm checked a third time. Wolansky announced a bet of 325,000.
"Didn't think you had the balls to pull that trigger," said Malm to Wolansky. He sat thinking.
Minutes ticked down on the clock as Malm stacked and and disassembled stacks of chips while thinking and muttering to himself about the hand.
"This is TOUGH," he emphasized after about three minutes.
Four minutes into his decision was enough for Wolansky, who called the clock on Malm. He had sixty seconds to act on his hand or it would be declared dead.
Malm continued to think and used his time all of the way down until there were just six seconds left. He pushed out a call.
Wolansky showed


for just king-high. Malm rolled up


for a pair of sixes and the best hand. He clenched his fist tightly and did a fist pump to himself as he dragged in the pot. He now is sitting on about 2.27 million in chips.