What's with Flack's "Back-to-Back" Nickname?
Nivel 2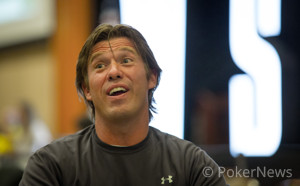 Not a lot of players can say they have six bracelets; in fact, there are only 11 players in history that have six or more. One of them is Layne Flack, who has 33 career WSOP cashes totaling $2,573,501.
Born in Rapid City, South Dakota, Flacks first and only job was as a poker dealer in Montana. Now the man known as "Back-to-Back" Flack is a Las Vegas resident who receives cards from countless dealer. So, what's the story behind the nickname?
It stems from Flack's back-to-back bracelet wins at the 2003 WSOP. If you recall, that year Phil Hellmuth and Ted Forrest won three bracelets apiece, so Flack's performance was a bit overshadowed, which is a shame.
Flack actually won his first bracelet at the 1999 WSOP Event #12 $3,000 Pot-Limit Hold'em for $224,400, and then followed that up with two wins in 2002—Event #4 $2,000 No Limit Hold'em for $303,880 and Event #19 $1,500 No Limit Hold'em for $268,020.
The following year Flack earned his nickname when he captured his fourth ring in Event #18 $2,500 Limit Omaha Hi/Lo, which was good for $119,260, and a week later, got number five after taking down Event #25 $1,500 Limit Hold'em Shootout for $120,000.
Toss in a win in the 2008 WSOP Event #34 $1,500 Pot-Limit Omaha w/ Rebuys for $577,725 and you have an impressive résumé with six pieces of gold.
Flack is in today's field seeking his seventh bracelet, and you can rest assured we'll be keeping an eye on him as the day progresses.