Nivel:

12
Blinduri:

300/600
Ante:

100
| | | | | | |
| --- | --- | --- | --- | --- | --- |
| Steven Silverman | | | | 72,000 | |
| Bryan Piccioli | | | | 71,900 | |
| Ezra Udoff | | | | 71,900 | |
| Nipun Java | | | | 71,900 | |
| Kevin Eyster | | | | 71,900 | |
| Brandon Cantu | | | | 71,900 | |
| Simeon Naydenov | | | | 71,800 | |
| Max Steinberg | | | | 71,800 | |
| Zachary Hall | | | | 71,800 | |
| Antonio Esfandiari | | | | 71,800 | |
| Johannes Meyer | | | | 71,700 | |
| Dan O'Brien | | | | 71,700 | |
| Derek Hanauer | | | | 71,700 | |
| Cherish Andrews | | | | 71,700 | |
| Dario Sammartino | | | | 71,600 | |
| Richard Roeper | | | | 71,600 | |
| Gianluca Mattia | | | | 71,600 | |
| Jim Willerson | | | | 71,600 | |
| David "Bakes" Baker | | | | 71,600 | |
| Andy Philachack | | | | 71,600 | |
| Chris Klodnicki | | | | 71,600 | |
| John Hennigan | | | | 71,600 | |
| Brock Parker | | | | 71,500 | |
| Alessandro Longobardi | | | | 71,500 | |
| Daniel Thomas | | | | 71,500 | |
Event #9: $3,000 No-Limit Hold'em Shootout
Ziua 1 terminat
| Table | Seat | Player | Chips |
| --- | --- | --- | --- |
| 436 | 1 | Jan Kasten | 71,100 |
| 436 | 2 | James Mackey | 71,200 |
| 436 | 3 | Matt Salsberg | 71,400 |
| 436 | 4 | Salvatore Bianco | 70,000 |
| 436 | 5 | Tom Koral | 70,900 |
| 436 | 6 | Tim West | 70,600 |
| | | | |
| 437 | 1 | Ryan Hughes | 63,000 |
| 437 | 2 | Nipun Java | 71,900 |
| 437 | 3 | Derek Hanauer | 71,700 |
| 437 | 4 | Zachary Hall | 71,800 |
| 437 | 5 | Nick Binger | 71,500 |
| 437 | 6 | Andy Philachack | 71,600 |
| | | | |
| 438 | 1 | Michael Sabinash | 71,400 |
| 438 | 2 | Brandon Cantu | 71,900 |
| 438 | 3 | Bryan Campanello | 71,100 |
| 438 | 4 | Steven Silverman | 72,000 |
| 438 | 5 | Seung Rhee | 71,000 |
| 438 | 6 | Jared Solomon | 70,700 |
| | | | |
| 439 | 1 | Daniel Thomas | 71,500 |
| 439 | 2 | Victor Ramdin | 71,100 |
| 439 | 3 | Cherish Andrews | 71,700 |
| 439 | 4 | Max Steinberg | 71,800 |
| 439 | 5 | Jason Duval | 70,900 |
| 439 | 6 | Dario Minieri | 70,000 |
| | | | |
| 440 | 1 | Simeon Naydenov | 71,800 |
| 440 | 2 | Cylus Watson | 71,100 |
| 440 | 3 | Taveesak Kiatathikom | 71,100 |
| 440 | 4 | Connor Drinan | 71,400 |
| 440 | 5 | Timothy Nuter | 70,600 |
| 440 | 6 | Mandeep Narang | 70,700 |
| | | | |
| 441 | 1 | Gianluca Mattia | 71,600 |
| 441 | 2 | Jim Willerson | 71,600 |
| 441 | 3 | Kevin Eyster | 71,900 |
| 441 | 4 | Adam Friedman | 71,200 |
| 441 | 5 | David "Bakes" Baker | 71,600 |
| 441 | 6 | Sunil Aggarwal | 70,400 |
| | | | |
| 442 | 1 | Chris Klodnicki | 71,600 |
| 442 | 2 | Dylan Wilkerson | 71,000 |
| 442 | 3 | Mark Scott | 71,300 |
| 442 | 4 | Ezra Udoff | 71,900 |
| 442 | 5 | John Hennigan | 71,600 |
| 442 | 6 | Daniel Dipasquale | 71,300 |
| | | | |
| 443 | 1 | Johannes Meyer | 71,700 |
| 443 | 2 | Alessandro Longobardi | 71,500 |
| 443 | 3 | Nick Petrangelo | 71,000 |
| 443 | 4 | Mark Darner | 71,400 |
| 443 | 5 | Roy Gibbs Jr. | 62,900 |
| 443 | 6 | Antonio Esfandiari | 71,800 |
| | | | |
| 444 | 1 | Brock Parker | 71,500 |
| 444 | 2 | Cliff Josephy | 71,500 |
| 444 | 3 | Randy Dorfman | 69,300 |
| 444 | 4 | Bryan Piccioli | 71,900 |
| 444 | 5 | Dan O'Brien | 71,700 |
| 444 | 6 | Kyle Julius | 62,900 |
| | | | |
| 445 | 1 | Dario Sammartino | 71,600 |
| 445 | 2 | Leo Wolpert | 70,700 |
| 445 | 3 | Richard Roeper | 71,600 |
| 445 | 4 | Charles Nelson Robinson | 71,000 |
| 445 | 5 | Evan Silverstein | 70,900 |
| 445 | 6 | Charles Coultas | 70,700 |
| | | | | | |
| --- | --- | --- | --- | --- | --- |
| Steven Silverman | | | | 72,000 | 72,000 |
| Kevin Eyster | | | | 71,900 | 71,900 |
| Nipun Java | | | | 71,900 | 71,900 |
| Brandon Cantu | | | | 71,900 | -100 |
| Ezra Udoff | | | | 71,900 | 71,900 |
| Bryan Piccioli | | | | 71,900 | 71,900 |
| Zachary Hall | | | | 71,800 | 71,800 |
| Antonio Esfandiari | | | | 71,800 | -200 |
| Max Steinberg | | | | 71,800 | 71,800 |
| Simeon Naydenov | | | | 71,800 | 71,800 |
| Derek Hanauer | | | | 71,700 | 71,700 |
| Cherish Andrews | | | | 71,700 | -300 |
| Dan O'Brien | | | | 71,700 | -300 |
| Johannes Meyer | | | | 71,700 | 71,700 |
| Chris Klodnicki | | | | 71,600 | -400 |
| John Hennigan | | | | 71,600 | 71,600 |
| David "Bakes" Baker | | | | 71,600 | 71,600 |
| Andy Philachack | | | | 71,600 | 71,600 |
| Jim Willerson | | | | 71,600 | 71,600 |
| Dario Sammartino | | | | 71,600 | 71,600 |
| Richard Roeper | | | | 71,600 | |
| Gianluca Mattia | | | | 71,600 | 71,600 |
| Nick Binger | | | | 71,500 | 62,500 |
| Cliff Josephy | | | | 71,500 | 71,500 |
| Brock Parker | | | | 71,500 | 71,500 |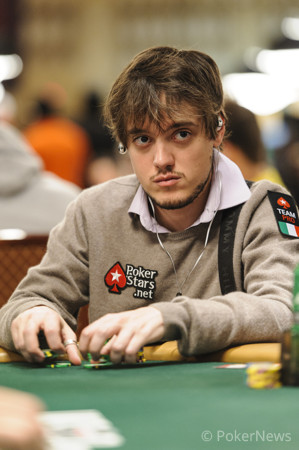 Today was full of sicko tables and lots of action here in Event #9: $3,000 No-Limit Hold'em. There were 477 players spread out among the Brasilia room, each trying to win their table. At the end of the day there were 60 players left, all of whom return tomorrow.
Action was fast and furious all day and we saw plenty of big names rise and fall. Some of the big names that will return tomorrow include Chris Klodnicki, Cherish Andrews, Victor Ramdin, Nick Binger, Matt Salsberg, Antonio Esfandiari and Bradon Cantu. Even though plenty of big name pros made it through the day, there were plenty of others who hit the rail, including three of the biggest names in poker: Phil Hellmuth, Phil Ivey, and Daniel Negreanu.
Arguably the strongest table today seated Jason Mercier, Dario Minieri, Tony Gargano, Kevin Saul, Darren Elias, Jason Somerville and Matt Berkey together. It was Dario Minieri who came out on top of that one though. In an interview with PokerNews.com today, Minieri discussed some strategy for the No-Limit Hold'em Shootout Format. Minieri was able to close out his table when Kevin Saul held


against his


. Saul was ahead with his jacks, but the flop changed his fortunes, coming



and giving Minieri a pair of kings. The rest of the board ran out


, giving Saul no help.
Tomorrow at 1 p.m. local time we will return with the final 60 players split up into 10 tables of six players each. Those 10 winners will return on Day 3 to play down to a winner at the final table. PokerNews.com will be here for all the action on day 2 of Event #9 so make sure to tune in for updates all day.
Our last winner of the day was Ezra Udoff. His


held up against Jim Grogan on a board of




and he was awarded with a spot in tomorrow's final 60 players.
At the last table remaining, Jim Grogan and Ezra Udoff got their chips in the middle pre-flop. Udoff held


, but Grogan had him dominated with


. The flop changed matters dramatically, though. It fell



, giving Udoff a pair of queens and the lead. The rest of board ran out


, and Udoff doubled up.
Alessandro Longobardi limped from the button for 1600, then Jesse Sylvia raised all-in and Longobardi called. Longobardi showed


, and Sylvia was behind with


. The board ran out




, and provided Sylvia no help. Last year's main event runner-up has been eliminated, and Longobardi will advance.
| | | | | | |
| --- | --- | --- | --- | --- | --- |
| Alessandro Longobardi | | | | 71,500 | 71,500 |
| Jesse Sylvia | | | | Eliminat | |
Nivel:

9
Blinduri:

800/1,600
Ante:

200