Event #9: $3,000 No-Limit Hold'em Shootout
Zilele: 2
Nivel: 1
Blinduri: 3,000/6,000
Ante: 1,000
Event #9: $3,000 No-Limit Hold'em Shootout
Ziua 2 terminat
Nivel 17 : 2,000/4,000, 500 ante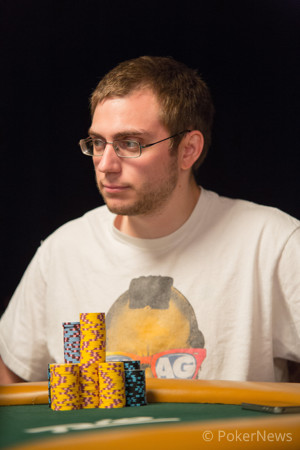 In Event #9: $3,000 No Limit Hold'em Shootout, 60 players returned to action today from yesterday's starting field of 477. By the time play finished for the night, only 10 players remained. They'll return tomorrow to play the final table and battle it out for the first prize of $299,486 and the coveted WSOP gold bracelet.
There are several notable players who have advanced to tomorrow's final table. Four of the remaining ten have already won World Series events: Cliff Josephy, David "Bakes" Baker, Ryan Hughes, and Max Steinberg. They are joined by Chris Klodnicki, who has won a World Series Circuit ring but is still looking for his first bracelet. Klodnicki twice finished in second place in World Series events, including last year's $50,000 Poker Players Championship.
The action continues tomorrow at 1 p.m. local time, when the final table is scheduled to be contested on the ESPN main stage. Pokernews.com will be here to bring you all the action as it occurs, so stay tuned for updates as the players determine the next World Series of Poker bracelet winner.
| Seat | Player | Chip Count |
| --- | --- | --- |
| 1 | Steven Silverman | 428,000 |
| 2 | Simeon Naydenov | 427,000 |
| 3 | Tim West | 428,000 |
| 4 | Cliff Josephy | 419,000 |
| 5 | Alessandro Longobardi | 421,000 |
| 6 | Max Steinberg | 428,000 |
| 7 | Evan Silverstein | 427,000 |
| 8 | Ryan Hughes | 422,000 |
| 9 | David "Bakes" Baker | 428,000 |
| 10 | Chris Klodnicki | 429,000 |
Nivel 17 : 2,000/4,000, 500 ante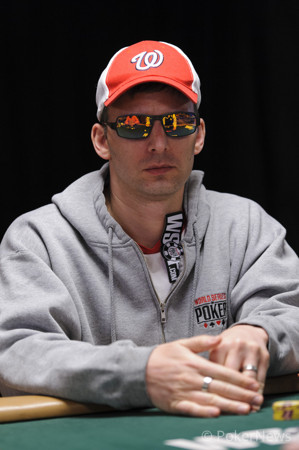 For the second day in a row, Ezra Udoff was involved in the final heads up match of the day, but this time he did not come out on top.
On the last hand of the night, Chris Klodnicki raised to 12,000 on the button. Udoff made a reraise to 32,000 from the big blind. Klodnicki then moved all in and Udoff quickly called, turning over his

"It's a flip," Klodnicki said turning over his


.
The board ran out




giving Klodnicki two pair and the winning hand. Klodnicki will return tomorrow as the last member of the final table.
Nivel 17 : 2,000/4,000, 500 ante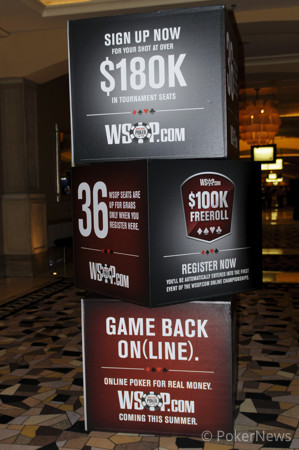 The buzz inside the walls of the Rio extends beyond just the tournaments on the 2013 World Series of Poker schedule. Online poker in Nevada is a very, very hot topic right now, and WSOP.com is making a lot of noise.
While the site has yet to launch, you can head to the Lambada Room of the Rio or look for one of the beautiful and friendly WSOP.com ladies walking the hallways to sign up for a free, personal WSOP.com online poker account. This is a great way to get a jump on the site's registration, and plenty of people have already taken this opportunity.
What's more is that the WSOP will be hosting daily raffles for everyone that has taken the time to register for WSOP.com at the Rio. What can you win? Plenty of fantastic prizes including 36 WSOP seats!
Players 21 years of age and older who sign up for a WSOP.com account will automatically be entered into the "36-Seat Giveaway" where a randomly-selected winner will win a seat into the next day's first WSOP gold bracelet event. One of the events eligible in this promotion is the $111,111 One Drop High Roller No-Limit Hold'em tournament that is expected to feature a $10,000,000 prize pool and allow you to play poker with the biggest names in the game. In total, $182,333 in WSOP seats, including a seat to the WSOP Main Event, are being given away during this one-of-a-kind WSOP.com promotion.
In addition to the 36-Seat Giveaway, a "Hot Seat" promotion will allow any player who signs up for a WSOP.com online account and wears their WSOP.com patch on their chest at the table while playing an event to be randomly selected to receive 500 bonus dollars deposited directly into their WSOP.com online account once the site has received all regulatory approvals and launches.
With 62 WSOP gold bracelet events and three winners promised for the Main Event, this promotion includes $32,000 worth of value to those participating.
Nivel 17 : 2,000/4,000, 500 ante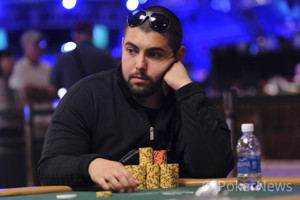 Mandeep Narang has been eliminated from the tournament. He raised pre-flop to 16,000, and Simeon Naydenov called. Then the real action started. The dealer spread a



flop, and Naydenov checked. Narang then bet 23,000. Naydenov reached for his chips and started to push forward a stack with each hand. The dealer started to announce "all-in," but Naydenov stopped him and said he was raising to 60,000. The dealer may have been prescient, though, as Narang announced all-in almost immediately, and then Naydenov quickly called. Narang showed


for top pair, but Naydenov had


for a flopped straight. The turn was the

, giving Narang a flush draw, but the river was a harmless
. Naydenov won the pot and the table, and will advance to the the final table tomorrow.
Nivel 17 : 2,000/4,000, 500 ante
Those players who broke for dinner are now resuming play. There are only two tables left in this tournament. Mandeep Sarang is heads-up against Simeon Naydenov and Chris Klodnicki is heads-up against Ezra Udoff.
Nivel 17 : 2,000/4,000, 500 ante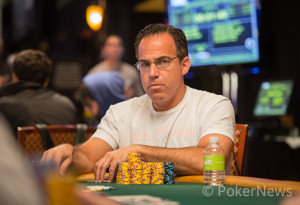 Preflop Dan O'Brien raised to 12,000. Cliff Josephy called from the big blind.
The board came out



and Josephy bet out 8,000. O'Brien made a reraise to 22,000 and Josephy moved all in.
"Alright," O'Brien said, throwing in a call.
Josephy:


O'Brien:


"I'm ahead for now," O'Brien said.
But that didn't last long as the

came on the turn. The

came on the river, but that wasn't what O'Brien needed to catch up.
Josephy will return tomorrow for the final table.
Nivel 17 : 2,000/4,000, 500 ante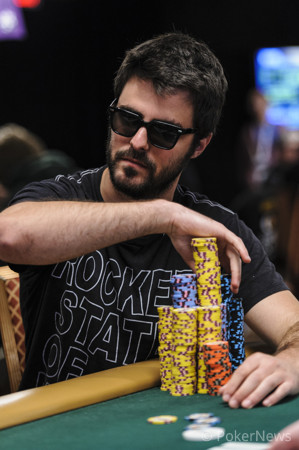 Max Steinberg has eliminated Cherish Andrews. On the final hand, Andrews raised with a suited King-Queen, and Steinberg raised all-in with

. The board failed to improve Andrews's hand, and Max Steinberg advances to the final table and will try to earn his second WSOP bracelet tomorrow.
Nivel 17 : 2,000/4,000, 500 ante
On a flop of


, Cherish Andrews bet 13,000 and Max Steinberg called. They both checked when the

fell on the turn, and then Steinberg led out for 32,000 on the
river. After thinking for a minute, Andrews cut out chips to call and pushed them forward. Steinberg turned over


for a full house.
Andrews had started mounting a comeback, but after this setback is back down to about 90,000 in chips.