Final Table Interview: John Taylor
Nivel 18 : 6,000/12,000, 2,000 ante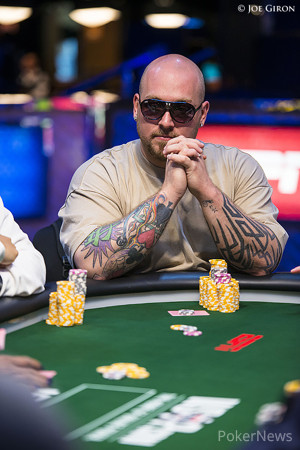 Minutes after meeting Corey Emery for a quick interview before the final table convened, we caught up with his colleague from the Player's Club Casino in Ventura, California, where both men work as poker dealers. Taylor wasn't here to rail his buddy though, he was trying to chase him down, as he entered the final table in second chip position behind Emery.
And while his fellow veteran of the box had WSOP experience under his belt before making the trip, Taylor walked into the Rio as a WSOP neophyte, simply looking to soak in the experience and enjoy a good time. Instead, he just might become the first player of the summer to sport a shiny gold bracelet.
PokerNews: Wow, so you're a colleague of Corey Emery, our current chip leader?
Yeah, we actually work together at the same place. I'm a poker dealer, been there for almost two years, but I've been dealing since about 2001. Been playing since right around that time as well.
PokerNews: We heard about Corey's run in the 2010 Main Event, so how about you? Any experience playing on poker's grand stage?
This is my first time attending the WSOP, which is really cool for the fact of making it here to the final table. Yeah, this is just really exciting.
PokerNews: And I take it you'll be booking a return reservation after enjoying this experience so much?
Yeah, definitely… I plan on it. You know, I'm just very fortunate I made it this far, man. Because, you hear it's an employee's event, so you figure all these dealers are going to come in and start taking shots, and it's going to be super juicy, but it turned out not to be that way. Just the whole structure of the tournament is really cool, too. I'm so used to playing fifteen-minute, thirty-minute blinds, so a one-hour blind level gives you a lot of time, even though you don't start with a lot of chips, gives you some time to try and build. It's really cool.
PokerNews: Any key hands from yesterday that put you in position to make the final table?
My key hand, which pumped me up really early in the tournament, was against Bernard Lee. I limped in with queen-ten and everybody folded to the blinds. It's Bernard in the small blind, and he calls, with the big blind checking behind. The flop comes jack-eight-deuce, and me just trying to see if they had anything, trying to take it down right there, I just threw out 1,100. Bernard called, the other guy folded, and the nine hits the turn to give me the nut straight. He bets out 1,800, I make it 3,800 and he goes all in. He made two pair on the turn and I held up on the river to knock him out. So that was a big hand for me yesterday, for sure.
PokerNews: And how have things progressed today?
Today, man, it's been really like a roller coaster ride, very up and down. I think I made a bad move with king-queen suited, got it all in with a guy I thought was on a move, but he had ace-ten. Sure enough though, I spiked two pair on the flop, and it held up to put me in a pretty good position. From there, it's pretty much been smooth sailing, I made some really bad calls to give some chips away, but I ended up getting them back along the way.
PokerNews: Every poker player dreams of making a WSOP final table at some point, and you just accomplished that feat in your first time out. Anybody back home you'd like to let know about the good news?
Taylor: Yeah, I would say my family, you know… mom and dad, my brother. Most of all, my son Brenton. I love him, man.