Player Spotlight: Jason McPherson
Nivel 23 : 20,000-40,000, 0 ante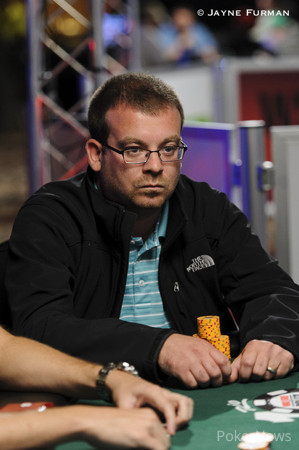 The trip to Las Vegas was already planned for three friends from Kentucky. What wasn't planned was jumping into a $10,000 buy-in tournament when your largest buy-in to date was only $500. It took some arm twisting, but eventually Jason McPherson made, what is turning out to be, a profitable decision to join Event #10: $10,000 Limit Omaha Hi-Low Championship.
His friend Jeremy Tincher is on his rail, while the third member of the group, Charlie Dawson is currently playing in day 2 of Event #11: $1,500 Six-Handed No-Limit Hold'em. When asked how it was decided to stake McPherson in the tournament, Tincher responded, "he is the most consistent player in our home game."
Tincher went on to describe McPherson as a recreational player, who mainly plays cash games anywhere from two to five days a week. Their home games are all about Omaha and while there is some high/low they mostly play Big O (five card Omaha).
PokerNews' Kim Yuhl caught up with McPherson as the players went on their first break of the day.
PokerNews: Congratulations on your run. I hear you guys play a pretty mean Big O game back home.
Jason McPherson: Pretty much. We play a lot at the Tropicana Evansville Casino in Indiana.
We heard you talking about your largest buy-in being $500. What made you decide to buy in to the big one?
I am not a tournament player but it's my best game and I have a lot of faith that I know how to play the game right. I feel comfortable and I feel like I know what I am doing. I didn't even make my mind up until Thursday or Friday to play.
Was it a hard decision?
I sold off some pieces to people in my home game but I was undecided until Thursday or Friday. I just don't want to let them down.
Your friend said you were the most consistent player in the home game. What do you say to that?
I am probably not the most volatile player, I'm probably pretty consistent.
How are things going today?
Good. I almost tripled up early on. I started the day as the short-stack and now I have almost 200K.
It's a pretty stacked field. Is that intimidating at all?
Not in this game, no. I'm just comfortable. I'm having the time of my life. It's a dream come true.
Any plans to extend your trip with a win here today?
I am going to play on the $1500 Hi/Lo on Wednesday and if I make the final table then I will have to extend the trip but that is the only tournament I have scheduled to play. I plan on playing cash games the rest of the time.